U.S. Embassy ruled out the return of Syrian army to Lebanon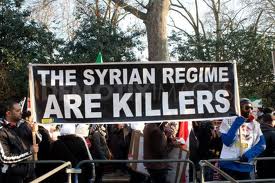 The U.S. Embassy ruled out on Thursday the return of the Syrian army to Lebanon, calling on Christians to open the doors of dialogue instead of focusing on fears.
This comes in response to Rifaat Eid, the head of the Arab Democratic Party, who called on Wednesday for the return of the Syrian army to restore calm to Tripoli, which has witnessed deadly clashes between armed opponents and supporters of Syrian President Bashar Assad over the since last Saturday.
It also comes in response to the remarks of some Christian leaders like Free patriotic Movement leader MP Michel Aoun, a close ally of the Iranian and Syrian backed Hezbollah militant group and Maronite Patriarch Beshara al Rai who have been expressing concern about the fall of the Syrian regime , calling it the closest thing to democracy.
At least 11 people have been killed since the clashes began . Residents in the mostly Sunni Bab al-Tabbaneh support the Syrian uprising, while residents in the predominantly Alawite Jabal Mohsen back the Assad regime.
Eid, whose party controls Jabal Mohsen had described the cease-fire that was agreed on last Monday in Tripoli as temporary, warning of a future worst-case scenario.
"If we go to the worst-case scenario, then no one will be able to restore calm in Lebanon except through the intervention of an Arab army," Eid told a news conference in Jabal Mohsen. "No one is capable of doing so except the Syrian army. If you ask me, I tell you I don't mind, let it be today rather than tomorrow."
Reaction to Eid's remarks
Eid's remarks outraged March 14 lawmakers who warned against the return of the Syrian Army to Lebanon.
"Someone from Jabal Mohsen disclosed yesterday, perhaps in a naïve or hateful way, the Syrian regime's plan for Lebanon, and particularly Tripoli, when he said that the solution lies in the return of Syrian troops to Lebanon to restore order," March 14 MP Marwan Hamade who represents the Chouf district told Asharq radio station.
"I think that Rifaat Eid has disclosed a plan to terrorize the political environment and the political class in Lebanon by spreading rumors about expected assassinations we don't know by whom," he said.
He accused Damascus of attempting to export "its hatred to Lebanon by sowing strife in some areas and distributing arms to some of its followers or some agents even in our cities."
"Hezbollah and its allies and behind them, the Syrian and Iranian regimes, invaded Beirut on May 7 2008 . Today, it's trying to target Tripoli," he said. He was referring May 7, 2008 when Hezbollah's gunmen briefly took over West Beirut and tried but failed to occupy Mt Lebanon.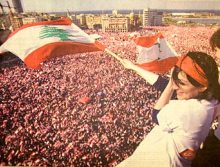 March 14 MP MP Khodr Habib, who represents the Future Movement in the Akkar district , lashed out at Eid, saying that "instead of extending his hand for dialogue to end the ongoing violence … [Eid] called for the return of the Syrian tutelage army to Lebanon as the only solution to end the unrest in Tripoli."
March 14 MP Antoine Zahra, who represents the Lebanese Forces in Batroun district , called on the government to summon Eid for questioning him over his remarks and to dismantle his militia, a call echoed by Fares Soueid, the general coordinator of the March 14 Secretariat General.
Syria was forced to withdraw its troops from Lebanon in April 2005, under massive local anti-Syria protests by March 14 parties in Beirut and international pressure following the assassination of former premier Rafik Hariri.