Russian riot police clash with protesters in Moscow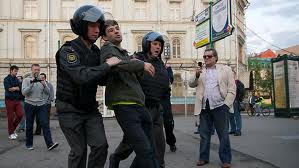 Russian riot police cleared a Moscow park early Wednesday of a weeklong encampment considered a local version of the Occupy movement, and hours later clashed with antigovernment protesters outside a Stalinist skyscraper in a different part of downtown.
The dispersal of several dozen protesters at the park encampment, called Occupy Abai, preceded a nighttime confrontation at Kudrinskaya Square, where several hundred protesters had gathered to oppose President Vladimir Putin. At the square, officers forced some protesters into police vans while others yelled angrily, saying they had the right to assemble freely.
"We have just witnessed once again how much respect the Kremlin has for constitutional guarantees, which are worth nothing in Russia," said opposition leader Garry Kasparov, the former world chess champion. "This is absolutely outrageous."
At dawn, police evicted protesters from the encampment after a court order that stemmed from complaints of noise and stench at the small park along Chistoprudny Boulevard.
No serious injuries were reported in either case, but protesters were detained at each site, authorities said.
Opposition activists said the police action, which followed other recent confrontations between authorities and protesters, again illustrated Putin's desire to limit public discourse by using methods to maintain tight control — including imprisoning opposition leaders — and running a de facto censored national media.
The Occupy Abai encampment, named for Kazakh poet Abai Kunanbayev, represented a tiny zone of free speech and free thinking, protesters said.
"It is a new format of protest we think efficient as we intend to demonstrate to the Kremlin that we are not going to leave the streets of Moscow no matter what they do to prevent us from protesting," said Ilya Yashin, an opposition leader who later was among those detained at Kudrinskaya Square.
The park encampment had attracted anywhere from dozens to thousands of supporters from day to day.
Two young men drew a large crowd one day while playing guitars and singing a popular song. " 'Changes!' demand our hearts!" they sang as loud as possible, the audience joining in. " 'Changes!' demand our eyes.… We are waiting for changes!"
A mix of people showed up throughout the week, including some youths, organizers said.
Alyona Romashchina, a 17-year-old high school student, said the experience was a qualitative break from communicating with her classmates, a majority of whom were indifferent to politics.
"In the last few days I have met so many interesting people here, it is so exciting," she said. "I have been here only four days but it seems like a whole new life, which opened my eyes to so many things."
Dana Vaks, a 14-year-old high schooler, with part of her face painted white in a symbol of protest, went to Occupy Abai with her economics teacher to protest Putin's "highly inefficient policy" on the economy.
Andrei Pinchuk, a 29-year-old movie casting director, said the dislike for Putin united many different groups.
"Some nationalist toughs are here with us and they are teaching us how to physically withstand the use of force by the police," he said.
The ruling United Russia faction in the State Duma, parliament's lower house, is aiming to severely toughen the consequences for protest organizers, including fines equivalent to $50,000, a dramatic hike from the existing fine of about $30, and ordering public work of 20 to 200 hours.
The bill, which opposition leaders call draconian, is expected to pass Friday in the Duma, which is controlled by Putin loyalists.
The opposition leaders "completely discredit the idea of public mass events, creating a real threat to public security," Irina Yarovaya, head of the Duma's security committee, said Wednesday on the United Russia website. "Everything they are doing is counter to democracy, law, law enforcement and common sense."
At Kudrinskaya Square, police Lt. Col. Eldar Bigbov eventually told protesters they could remain as long as "they don't lie down on the lawn."
LA Times