Mikati: No Political Protection for Tripoli security violators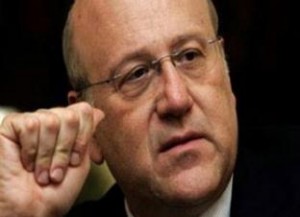 Prime Minister Najib Mikati revealed on Sunday that a decision was taken against providing political cover for any security violators in the northern city of Tripoli.
The city was the scene of deadly clashes since Saturday. At least four people have been killed, and another 24 injured, after fighting erupted overnight between residents loyal to Syrian President Bashar al-Assad and those supportive of the Syrian opposition.
Mikati said the decision was taken following consultations with all the political, social and religious figures in Tripoli.
Dirty trick
Future Movement which is headed by former PM Saad Hariri urged Mikati and Tripoli ministers on Sunday to resign after the General Security Department lured Shadi al-Mawlawi to arrest him on suspicion of contacting a terrorist organization.
Following a meeting held by Future Movement Coordination Council in the northern city, the conferees condemned in a statement al-Mawlawi's arrest after luring him to Finance Minister Mohammed al-Safadi's Social Services Center under the pretext of granting him $500 benefit for his daughter who is being treated at a hospital in Tripoli.
Mufti Malek al Shaar said Sunday that Tripoli cannot rest until the protesters are asshured that Justice will prevail. He said we all condemn the way Malawi was tricked in order to be arrested arrested