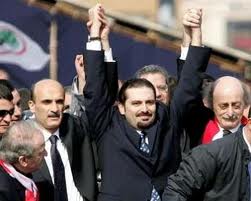 As Safir newspaper which is closely linked to Hezbollah and the regime in Syria reported on Wednesday that Progressive Socialist Party leader MP Walid Jumblatt will rejoin the March 14 alliance in the upcoming 2013 elections.
According to As Safir sources Jumblatt's recent meeting in Beirut with the visiting U.S. Assistant Secretary of State for Near Eastern Affairs Jeffrey focused on the upcoming 2013 polls.
Jumblat according to observers prefers to maintain his centrist position which is aimed at maintaining stability and civil peace in Lebanon, but Hezbollah and MP Michel Aoun are forcing him to re-ally with March 14.
While Hezbollah and Aoun are insisting on adopting the proposed new electoral law that is based on proportional representation and on making all of Lebanon one electoral district , Jumblatt is insisting that such a law will not suit the minorities and specially his Druze community and is insisting on adopting the law used in the 2009 elections which is a modified 1960 winner-take-all law.
Since the minorities in Lebanon account for a small fractions of the total population, Jumblatt is concerned that the voters in areas like Baalbek, Tyre, Bint Jbeil, Marjayoun , Zahrani and Nabatieh the predominately Shiite areas where Hezbollah completely dominates the political scene , will determine the final outcome in Druze areas like the Shouf and Aley where he (Jumblatt ) is strong.
Aoun admitted that the proposed new law will downsize Jumblatt's influence
" Adoption of an electoral law based on proportional representation would reflect Jumblatt's real political weight", he said last week
This error message is only visible to WordPress admins
Error: No connected account.
Please go to the Instagram Feed settings page to connect an account.