Feltman arrived in Beirut headed for talks with Jumblatt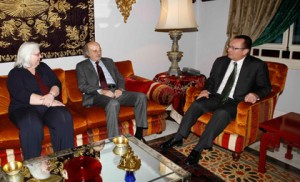 Assistant U.S. Secretary of State for Near Eastern Affairs Jeffrey Feltman arrived in Beirut and headed to Clemenceau for talks withProgressive socialist party leader MP Walid Jumblatt.
LBC reported that Feltman will meet Jumblat in the presence of ministers Ghazi Aridi and Wael Abu Faour, MP Terro, PSP official Yaghi and (Jumblatt's ) son Taimur Jumblat.
MTV reported that following his meetings with Jumblat , Feltman will meet with Lebanese Forces leader Samir Geagea to congratulate him on surviving the assassination attempt
MTV also reported that Feltman is expected to demand stricter control of the border with Syria and the enforcement of the International sanctions against Syria . He will also urge the government to control low security areas and respect the timetable of the upcoming parliamentary elections. He will also reiterate US support for Lebanon sovereignty and independence
LBC also reported that the U.S. embassy is expected to issue a communique at the end of Feltman's visit tomorrow evening.
Update: US Senator Joseph Lieberman (CT Indep) had also arrived in Beirut earlier in the day .