Hariri wants to see Assad at ICC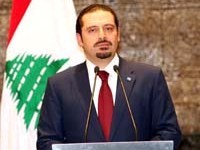 Syrian President Bashar Assad should face the same fate as former Liberian President Charles Taylor at The Hague, the former Lebanese prime minister said.
A special U.N.-backed court for Sierra Leone found Taylor guilty of aiding and abetting war crimes during the civil war in Sierra Leone.
Former Lebanese Prime Minister Saad Hariri said the Syrian people should draw hope from the verdict.
"It is … a day of hope for Syrian people that one day Bashar Assad will be held accountable for his crimes against his own people," he was quoted by Lebanese newspaper The Daily Star as saying.
A U.N.-backed court is investigating the 2005 assassination of Hariri's father, former Lebanese Prime Minister Rafik Hariri. There were allegations that Syria had a role in the assassination.
Damascus is under pressure from the international community to end its 13-month campaign against pro-democracy groups and rebel forces in the country.
The U.N. Security Council recently authorized deploying as many as 300 monitors to Syria for 90 days.
The International Committee of the Red Cross, meanwhile, confirmed that a Syrian Arab Red Crescent volunteer was killed and three others were wounded this week. The volunteer was killed in a vehicle marked with the Red Crescent emblem in rural Damascus.
"This is the third fatal incident involving the Red Crescent in less than eight months," said Abdul Rahman al-Attar, the president of the Syrian Arab Red Crescent, in a statement.
UPI