Less bread in the new pack in Lebanon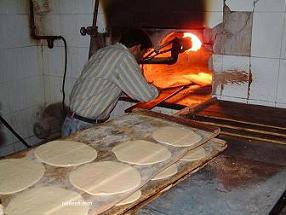 Lebanon is dropping the metric system in its new pack of bread. Instead of one kg pack the new one will be 2 lbs or 900 grams, but the price will be same.. . One buck or 1500 LL.
The government approved the reduction in the weight of the bread pack to appease the bakeries , who have been complaining about the rising price of flour .
White Flour for Lebanese type bread is subsidized to the bakeries in Lebanon at a level of 70K LL per metric ton or roughly about 2.2 cents a lb .
Bakeries pay LL440,000 ( $293 )instead of LL510,000 ( $340) per ton
The Bakeries Union suspended its open-ended strike last week after it struck a deal with Economy Minister Nicolas Nahhas on the 70,000 LL subsidy for the white flour.