Gemayel calls for a neutral cabinet to oversee 2013 elections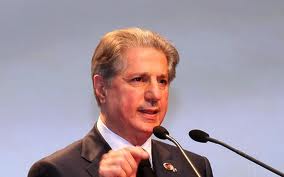 Former Lebanese president and current Phalange Party leader Amin Gemayel said on Wednesday that a "uneutral government" was a necessity for managing the electoral process during the 2013 parliamentary elections, National News Agency reported.
"[We] are coordinating with our allies to reach a united stand on the electoral law," Gemayel said following his meeting with Future bloc leader MP Fouad Siniora.
On his part Siniora said there was a critical "need" for an electoral law that will enable citizens to "exercise their rights [without] any pressures of restraints." A possible reference to Hezbollah's arms which were reportedly used to pressure citizens to vote for the the party or its allies.
Cannot be trusted
Siniora also denied that he suggested the formation of a neutral cabinet headed by current Prime Minister Najib Mikati.
"The [current] cabinet made some progress, but a lot of mistakes were committed by several of its members who are malicious," former PM Siniora added.
He also said that Mikati's cabinet cannot be trusted with running the upcoming elections and addressing the country's affairs.
Lebanese parties are split right in the middle between those who want a new electoral law that is based on one electoral district in which proportional representation will determine the final outcome of the elections and between those that want to keep the winner take all 1960 modified electoral law which is based on al Qadaa 9 (county) as an electoral district.
March8 alliance is pushing for the new law while MP Walid Jumblatt and the Future Movement are pushing for the 1960 law.