Another blast targets a restaurant in south Lebanon, update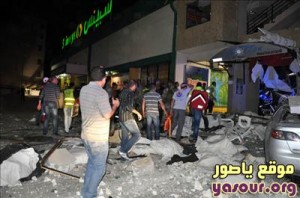 Another blast in Tyre ( Sour) south Lebanon targeting a restaurant took place around midnight Sunday causing extensive material damage.
There are unconfirmed reports of casualties as a result of the explosion targeting Nocean restaurant, which is located on Ramel Street, Nabih Bery Boulevard, Tyre, next to McDonald's restaurant and a Spinneys super market
The Internal Security Forces and ambulances reportedly arrived at the scene .
On November 17 two bombs targeting a nightclub and a liquor store exploded in Tyre (Sour), one of the few areas in South Lebanon where alcohol is available for sale.
One of the bombs targeted the Elissa Queen Hotel on the seafront of the scenic Mediterranean coastal town.
The second bomb struck a shop selling alcohol in the Christian quarters of Tyre, a multi-confessional city especially popular with tourists during the summer season.
Last December a bomb ( two-kilogram of TNT) targeting the seaside Tyros restaurant in the southern city of Tyre caused substantial material damage.
Alcohol is not banned in Lebanon, but in areas under the control of the Lebanese Shiite movement Hezbollah liquor is not allowed.
Update I: Two people were reportedly wounded in the explosion and several cars that were parked in the area of the explosion were damaged
Update II: The number of wounded is seven and not two as originally reported . All the wounded were taken by the red Cross to nearby hospitals in Tyre
The bomb was placed in the elevator of the building in which the restaurant is located. The restaurant is on the fourth floor of the building and the bomb exploded as soon as the elevator stopped at the fourth floor.