After shelling stopped Syria lets U.N. monitors into Homs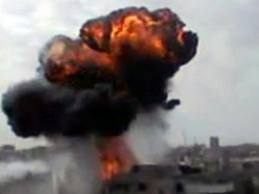 Syrian authorities allowed a team of United Nations ceasefire monitors to enter the battered city of Homs on Saturday after resident opposition activists said shelling and gunfire stopped for the first time in weeks.
"A team of observers have been sent to Homs and met the governor," U.N. spokesman Khaled al-Masri said. "They are now visiting districts of the city."
But activists in Homs said that the shelling ceased only to make it look as if the government was abiding by a truce, mediated by international Peace Envoy Kofi Annan. They said that shelling would resume as soon as the monitors left.
"It is very clear that the Syrian government can stop the violence whenever it wants at anytime in the country," Walid al-Fares, an opposition activist living in Homs told Reuters.
On Friday, 10 people were killed in Syria's third largest city and epicenter of a year-old revolt against President Bashar al-Assad, after heavy bombardment from government forces.
Syrian authorities say they are fighting "armed terrorist" groups and that they are still allowed to respond to acts of aggression to maintain security despite having agreed to a ceasefire.
Amateur video posted online on Friday appeared to show heavy shelling and explosions in residential neighborhoods of Homs.
The advance team of eight U.N. observers had been denied permission by the Syrian authorities to go to Homs last week – purportedly for security reasons.
On Thursday, Syria and the United Nations signed an agreement setting out the working conditions of ceasefire observers. The agreement stipulates "unfettered access" and freedom for monitors to travel and contact people.
Top U.N. humanitarian official John Ging said on Friday he hoped Syria would also grant permission in the coming days to send more aid workers to the country, where at least 1 million people are in need of urgent assistance.
He told reporters in Geneva that Syria had recognized there were "serious humanitarian needs" and that action was required, but logistical issues and visas for aid workers are still being discussed.
After a month-long shelling campaign in the central Homs district of Baba Amr, the Syrian government prevented the International Committee for the Red Cross from entering the area for several days. Opposition activists living in Homs said the government wanted to remove evidence of war crimes.
The United Nations estimates Assad's forces have killed more than 9,000 people in the uprising. Syria says foreign-backed militants have killed more than 2,600 soldiers and police.
The U.N. Security Council is due to vote on a draft resolution on Saturday to authorize the deployment to Syria of up to 300 unarmed military observers.
Reuters