Syrian army shells Homs ahead of observers' arrival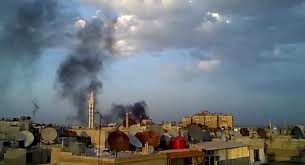 Syrian forces on Sunday shelled the city of Homs for the second consecutive day, the opposition said, hours before the arrival of an advance team of United Nations monitors to supervise a shaky ceasefire, dpa reported.
At least 19 people were killed across Syria, the opposition Local Coordination Committees (LCC) said.
Nine people were killed in shelling attacks on restive districts in the central city of Homs, it said.
Footage posted by the opposition on the internet showed Syrian military hardware inside Homs in violation of the UN-brokered truce, which appears to be faltering.
Fierce clashes were reported between security forces and army defectors on the outskirts of the northern city of Aleppo, Syria's second largest, the Syrian Observatory for Human Rights said.
The city's police station was attacked by bombs, said the group, reporting no casualty figures.
Both the Syrian government and opposition have been blaming each other for violating the ceasefire since it went into effect on Thursday.
The ceasefire is part of international envoy Kofi Annan's plan to end 13 months of violence, which the UN estimates has killed more than 9,000 people.
Syria's state news agency SANA said five army soldiers and civilians, killed by "terrorist groups", were buried Sunday in the capital Damascus and the port city of Latakia.
It is hard to verify news from Syria as the government bars most foreign media from restive areas.
The violence has cast doubt over the viability of the truce.
An advance team of observers was set to arrive in Damascus Sunday night, said Ahmed Fawzi, a spokesman for Annan.
Bouthaina Shaaban, an aide to President Bashar al-Assad, said the government took part in discussions to decide "the duration of the work of observers and the mechanism of their movement" in order to ensure their safety.
Shaaban also said Syria reserves the right to refuse monitors if they come from Qatar, Saudi Arabia, Turkey and France – countries that have strongly sided with rebels fighting to overthrow al-Assad.
Starting Monday, a six-person tean of monitors "will deploy to centres where there has been conflict," after consulting with Syrian authorities, Fawzi told dpa in Geneva.
The rest of the advance team, which is to number 25 to 30 people, would follow "as soon as possible," he said.
The UN Security Council, in a rare unanimous decision on the Syrian conflict, voted Saturday to authorize the deployment of the advance team.
Annan's plan calls for the withdrawal of army forces and military hardware from population centres, access for humanitarian services and journalists, and the release of detainees.
It also commits the Syrian authorities to respecting freedom of association and the right to "demonstrate peacefully."
DPA