'Serious doubts' about Syria commitment to truce, report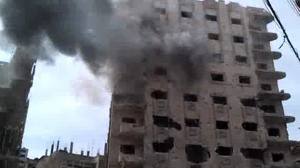 New attacks by Syrian security forces Saturday raised "serious doubts" about the government's commitment to a fragile ceasefire, the US envoy to the United Nations, Susan Rice and other western diplomats said.
"This resumed violence casts serious doubts yet again on the regime's commitment to a cessation of violence," Rice told the UN Security Council after a vote allowing an advanced party of ceasefire monitors to go to Syria.
Rice referred to shelling of rebel districts in the city of Homs and firing on funeral mourners in Aleppo.
Other western envoys raised similar doubts about the intentions of President Bashar al-Assad following the establishment of a fragile ceasefire on Thursday.
"The attacks suffered by the civilian population today in Homs confirm the doubts that one can have about the reality of the Syrian regime's engagement," said French envoy Gerard Araud.
AFP