Lebanon PM blasts Ahmadinejad over recent statements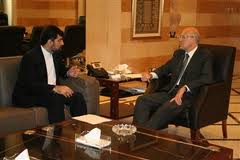 Lebanese Prime Minister Najib Mikati blasted Iranian president Mahmoud Ahmadinejad for his controversial statements during his recent visit to the disputed island of Abu Musa.
During a meeting with Iranian Ambassador to Lebanon Ghazanfar Roknabadi at the Grand Serail , Mikati said that Ahmadinejad's statements "inflame the ongoing conflict in the region, at a time when we require awareness in order to strengthen the calm and security that reflect positively on all the countries of the region and contribute to their development," according to a press release by Mikati's office.
Mikati also blasted Ahmadinejad's comments about the predominance of Iranian civilization and culture throughout the ages, saying that "Arab civilization has long spread its culture in the countries of the region and many parts of the world "
During his visit Wednesday to the occupied island of Abu Musa island, which is claimed by the United Arab Emirates , Ahmadinejad said that the name "Persian Gulf" derives from the "culture, civilization and the dominant opinion" of the area, sparking critical reaction in the Arab world.
Ahmadinejad also added salt to injury by claiming that historical documents prove that "the Persian Gulf is Persian," . Arabs generally refer to the sea as the Arabian Gulf.
The United Arab Emirates Ministry of Foreign Affairs summoned on Thursday its Ambassador to the Republic of Iran Saif Mohammed Obaid Al Zaabi for consultations in response to Ahmadinejad's statements.
The Federal National Council (FNC) strongly denounced the visit of the Iranian President to the occupied UAE Island of Abu Musa, one of the three UAE Islands occupied by Iran.