With echoes of Saddam, Syria's Assad may endure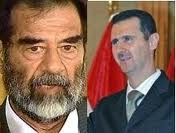 Having crushed a popular uprising, he rules by force over an Arab land shattered by conflict and sanctions, his people too exhausted and cowed to resist.
Is this the fate awaiting Syria under Bashar al-Assad?
Saddam Hussein lasted for 12 years after his defeat in the 1991 Gulf War until a U.S.-led invasion unleashed chaos and carnage from which Iraq, for all its oil, has yet to recover.
The trajectories of the two Baathist leaders are far from parallel, but Saddam's prolonged survival is a warning to anyone who believes Assad will fall simply because he has alienated the West and its Arab allies or earned the hatred of countless Syrians, including perhaps most of its Sunni Muslim majority.
Kofi Annan's U.N.-backed ceasefire may temporarily calm a conflict that has already cost more than 9,000 dead, but it is hard to see a compromise emerging between Assad's ruling Alawite elite and those bent on ending its four decades in power.
After so much blood, both sides now see it as a life or death struggle from which they cannot step back, and the United Nations lacks the international consensus to make them.
Time may not be on Assad's side, but while the 46-year-old president hangs on, sectarian rifts he has exploited are likely to widen as Syria descends towards all-out civil war.
In recent weeks, some of Assad's visitors reported him confident he could weather the storm, as his forces unleashed withering bombardments of towns and cities where lightly-armed rebels had possibly unwisely attempted to hold ground.
Military assaults persisted right up to Thursday's dawn ceasefire, which was not preceded by a withdrawal of tanks, troops and big guns as stipulated in Annan's six-point plan.
For now, the Syrian leader remains entrenched, albeit in a battle-scarred landscape and a ruined economy in which his legitimacy and his international repute have been shredded. Parts of restive cities like Homs have been reduced to rubble.
Russia and China still shield Assad from U.N. Security Council action. Iran and its Lebanese Hezbollah ally back him to the hilt, while Lebanon and Shi'ite-led Iraq offer open borders to mitigate the impact of sanctions on their Syrian neighbour.
ECONOMIC HARDSHIP
"The economy is very deeply in the red," said Jihad Yazigi, editor of the economic Syria Report online newsletter.
The only bright spots were a rise in exports to Iraq and a good rainy season, he said, although two of Syria's best farming areas have suffered severe disruption during the unrest.
"Daily life is increasingly harsh," Yazigi said, declining to predict how this might affect prospects for political change.
Sanctions have at best a patchy record, and the crippling U.N. measures against Iraq failed to loosen – and may have reinforced – Saddam's grip on power for more than a decade. Sanctions and hardship could similarly perpetuate Assad's reign.
"If the middle classes emigrate … then an exhausted population ruled over by a state tightly controlling the supply of food and fuel could look very much like the Saddam model," said Chris Phillips, a Middle East lecturer at Queen Mary, University of London.
Russia and China have twice vetoed draft resolutions on Syria in the U.N. Security Council. Assad has long derided Western sanctions targeting him and his entourage, but which have now been extended to Syria's small but vital oil sector.
Decades of isolation have had little impact on Assad's policies and his Western adversaries, weary of costly foreign wars, have disavowed any military option, even when the bloody siege of Baba Amr in Homs was at its height in February.
Careful not to provoke outside intervention, Assad has kept assaults on cities a notch below the one meted out to Hama in 1982 when his father Hafez al-Assad crushed an armed Islamist revolt by razing neighbourhoods and killing many thousands of civilians in a three-week attack that had a lasting deterrent effect.
Despite Saudi and Qatari promises of weapons and money, the assorted army deserters and civilians who took up arms after Assad's relentlessly violent response to initially peaceful protests remain mostly on their own, ill-trained and outgunned.
POWERFUL NEIGHBOUR
The wild card may be Turkey.
Having shifted from amity to hostility as Assad turned his tanks on civilians and rebels alike, the Turks are now incensed by an influx of 25,000 Syrian refugees. After Syrian soldiers fired over the border this week, Prime Minister Tayyip Erdogan asserted Turkey's right to ask its NATO partners to defend it.
In 1991, Turkey prodded its Western allies to create a safe haven in Iraq after half a million Kurds fled from Saddam's helicopter gunships. It has floated the same idea for Syria, while signalling any such move would need U.N. or NATO cover.
Turkey almost went to war with Syria in 1998 over its support for Turkish Kurd rebels. Assad's father caved in, expelling Kurdish leader Abdullah Ocalan and opening the way for a surprise rapprochement with Ankara.
Phillips said the spectre of Turkish military intervention was more likely to alarm Assad than any Gulf Arab effort to channel weapons to disparate insurgent groups – something which would fit Syria's portrayal of the unrest as the work of "terrorist" gangs fighting at the behest of foreign enemies.
Extra weaponry for opposition groups might speed Syria's descent into civil war, but would scarcely tip the military balance against Assad. In Libya last year, it was NATO warplanes, not rebel guns, that decided Muammar Gaddafi's fate.
"But if Turkey launched some full-frontal assault using air power on Syrian military bases, Bashar might be concerned about his own military turning on him and saying, 'We're going to be destroyed by this, it's time for you to go'," Phillips said.
So far Assad's Alawite-led military and security forces have remained generally cohesive, despite a flow of desertions to the rebel Free Syrian Army, which has its own internal divisions.
MURKY AID EFFORT
It is unclear how much aid Assad's opponents are getting from Gulf Arab states, despite reports of $100 million pledged at a "Friends of Syria" meeting in Istanbul this month.
"There is nothing of the sort," said one official of the opposition Syrian National Council. The group, he said, had previously been promised $50 million, with $5 million to be paid every two weeks. "But it's not coming regularly," he complained.
The Saudis are eager for the demise of Assad, a close ally of their regional nemesis Iran, but even they may be allowing private Saudi citizens to fund groups in Syria, rather than setting up any government channels, a Western diplomat said.
Such methods, reminiscent of previous Saudi backing for Islamist militants in Afghanistan and elsewhere, might disquiet Western powers concerned lest armed Sunni radicals shoulder aside more moderate and secular elements in the opposition.
Some rebel groups have named themselves after Sunni warriors of old, and are beyond Free Syrian Army control, said Marwa Daoudy, a visiting Middle East scholar at Princeton University.
This was "raising fears that the conflict is evolving into an armed struggle between Sunni-led groups and the Alawite-dominated regime", she said, while stating that minority Druze, Christians and Ismailis were represented in the opposition.
But Assad also has support from some in these groups who prefer the leader they know to an uncertain fate if Syria should fall under hardline Sunni rule, fears shared by some wealthy Sunni merchant families long allied with the governing elite.
From the outset of the revolt, the Syrian leader has played on sectarian fears to shore up his Alawite base.
"Long before the protest movement had turned violent, the authorities sought to convince the Alawite community that it risked slaughter at the hands of an opposition movement depicted simultaneously as a minority of murderous terrorists, a majority of hegemonic Sunni fundamentalists and an alien fifth column working on behalf of a global conspiracy," the International Crisis Group (ICG) said in a report this week.
Tit-for-tat sectarian killings and kidnappings have been on the rise, notably in the scarred city of Homs, and the ICG warned of a "growing disconnect between an insurgency and a popular movement" that were previously intertwined.
PEACE PLAN
Syria's violent dynamics may prove unstoppable, although a glimmer of hope could emerge if the truce holds – and many of Assad's foes say he cannot afford to stop shooting as people will demonstrate in vast numbers if they feel safe to do so.
Annan will have a hard job to achieve what his plan calls "an inclusive Syrian-led political process to address the legitimate aspirations and concerns of the Syrian people", gliding over the opposition demand for Assad's removal.
The Security Council, including Russia and China, has endorsed the plan, which Daoudy described as "one of the last political solutions available to the Assad regime in its interactions with the international community".
"If it fails to seize the opportunity, it might very well alienate its Russian and Chinese allies," she said.
Assad has unilaterally decreed political reforms, including a planned parliamentary election next month that his opponents have dismissed as a cynical ploy given Syria's bloody upheaval.
Syria's U.N. envoy Bashar al-Jaafari told U.S. PBS television's Charlie Rose his country only needed time to meet popular demands but that "collective suicide" was not the way.
"We are saying to our external wing opposition as well as to the people inside, 'Let us reform our country collectively speaking without the bloodshed'," Jaafari said on Thursday.
Asked if this could lead to a change of president, he said this was "up to the people's will" and accused countries such as the United States, France, Turkey, Qatar and Saudi Arabia of meddling in Syria's affairs by backing Assad's domestic enemies.
For those opponents, the idea that the Syrian autocrat would voluntarily cede power in a democratic process seems a sick joke, although a withdrawal of crucial Russian support might conceivably force Assad to rethink his calculations.
There has been no sign of a shift in Russia's position, but Western diplomats say Moscow does expect Assad to step aside although it sees someone from his Alawite circle taking over.
Without some agreed political transition, Syria risks even bloodier turmoil, with incalculable consequences for its 23 million people and for an already unstable Middle East.
"There is the potential for radicalisation and sectarianism," said Phillips, "and a major possibility of it turning into a Lebanon- or Iraq-type civil war."
Reuters