ceasefire only partly observed, says Syrian opposition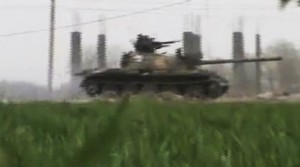 A U.N.-backed ceasefire that took effect in Syria at dawn is only being "partially observed" as heavy weapons and government troops remain deployed in cities, the main opposition movement said on Thursday.
"There is no evidence of a significant withdrawal," the Syrian National Council's spokeswoman Basma Kodmani told a news briefing in Geneva.
"The ceasefire is … only partially observed … To us it is clear that ceasefire implied withdrawal of all heavy weaponry from cities, populated areas. This has not happened."
She added: "To us, by the wording of the Annan plan it is not met, and that is important. It has not been met according to the wording of the Annan plan."
Kodmani was referring to the peace plan of international mediator Kofi Annan accepted by the government of President Bashar al-Assad. Annan's spokesman, in a statement on Wednesday announcing that Syria had pledged to halt fighting, stressed that the plan required its forces to withdraw from urban areas.
Syrian troops held their fire in the hours after the ceasefire took effect at dawn on Thursday, casting a silence over rebellious towns they had bombarded heavily in recent days.
Kodmani said that there had been shelling around the town of Zabadani early on Thursday and that three people had been killed in the towns of Idlib and Hama since the truce deadline expired at six o'clock this morning.
"We see on the ground tanks still centered and positioned inside all populated areas where they have been for the last three weeks. They have moved slightly from one position to another. Snipers are deployed across the country in all populated areas.
"There is a big increase in the number of checkpoints and those checkpoints are heavily armed," she said. "We have precise information and videos and pictures to provide evidence that heavy weapons are still stationed insides cities."
Dozens of people were arrested in Syria on Thursday, including in Aleppo, Deraa and Homs according to Kodmani.
"The real test today for us is if people can go down and demonstrate peacefully. This is the reality check," she said.
"This is a human rights issue, it is about people's freedom to express themselves, to demonstrate, the freedom from repression and fear. It is the right to live, to organize."
Norwegian Major-General Robert Mood, who led an advance planning team negotiating in Damascus how U.N. observers would monitor the accord, briefed Annan in Geneva on Thursday, diplomats said. Annan is to brief the Security Council from Geneva at 1400 GMT.
Deployment of the observer mission, expected to consist of 200 to 250 unarmed monitors, would require a resolution by the U.N. Security Council.
"The whole world is watching Syria. That is why we want monitors," Kodmani said.
"The observer mission needs a very strong mandate otherwise it might fail like the Arab League mission," she said, referring to a similar Arab League mission that ended in disarray amid mounting violence in January.
Reuters