March 14 official to boycott Easter Sunday mass
March 14 General Secretariat Coordinator Fares Soueid said on Saturday that he will boycott the Easter Sunday Mass in Bkirki which will be presided by Maronite Patriarch Bechara Boutros al-Rai.
This development comes after Rai's statement that " Syria was the closest thing to democracy in the Arab world" . The statement sparked criticism from key March 14 figures.
"I will not attend [the Mass] because there is divergence of views [between me and] the Patriarch which relate in general to political views," Soueid told New TV television.
Soueid added that the disagreement with Rai became worse when "Rai did not get in touch with Lebanese Forces leader Samir Geagea" after the attempted assassination against him.
Geagea, a leading Lebanese opposition figure and outspoken critic of the Syrian regime, said he survived an assassination attempt outside his house on Wednesday.
The Christian leader told journalists he had been shot at twice by "snipers" as he was walking with bodyguards outside his fortified residence in Meerab, northeast of Beirut.
Rai came under fire last September from the opposition March 14 parties but won praise from March 8 politicians for his comments during his visit to France . "Syrian President Bashar al-Assad is open-minded and should be given more chances to implement the reforms" he announced.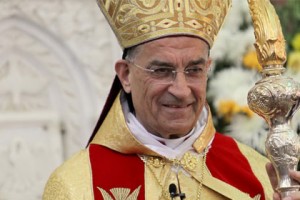 He also indirectly defended Hezbollah's arms by linking the party's arsenal to the termination of Israeli occupation of Lebanese territory and the return of Palestinian refugees to their homeland .
"only when the international community exerts pressure on Israel to vacate the occupied Lebanese territory ( the Shebaa Farms, Kfar Shouba hills and the Lebanese part of the disputed border village of Ghajar ) and Israel allows Palestinians in Lebanon to return to their homes, can Hezbollah be asked to hand over its arms because they will no longer be needed." He said during his visit.
The patriarch claimed after returning to Lebanon that the remarks he made while in Paris "were taken out of context and have nothing to do" with his personal opinion, but reiterated his controversial position on Syria and Hezbollah's arms during a meeting last October with President Michel Suleiman at the Baabda palace.
Pope's visit
Voice of Lebanon reported that President Michel Suleiman will attend the Easter mass and will hold closed-door talks in Bkirki with al-Rahi on Sunday to discuss the details of Pope Benedict XVI's trip to Lebanon in September.