Jumblatt denies any change in alliance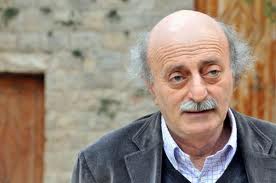 Progressive Socialist Party leader MP Walid Jumblat said on Sunday that his support for the Syrian uprising does not mean a change in his domestic alliances, stressing that his ministers will not resign from the cabinet of PM Najib Mikati.
During a meeting with his party's cadres in the Mount Lebanon town of al-Khalwat he outlined his position.
"We will stay in this government and we are with (Hezbollah's) weapons in order to defend Lebanon in the face of Israel, but we reject the use of arms domestically."
He also outlined his differences with Hezbollah:
"We have chosen to side with the Syrian people, but that does not mean a change in alliances. We have agreed with Hezbollah to manage our differences. They have their viewpoint concerning the Syrian regime but I won't discuss this now, and we have our viewpoint which is supportive of the Syrian people, and in my opinion they ( Hezbollah) will eventually realize that they were wrong," Jumblat added.
Jumblatt said that Moscow will sooner or later regret its support for the regime in Damascus. He called on Russia and China to "rescue Syria" stressing that the regime's crackdown on dissent will only lead to "more killings, displacement and destruction."