Syrian refugees flood Turkey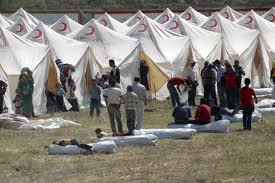 The Turkish government reported a record number of refugees fleeing Syrian military offensives across the border, just days before a Syrian government pledged to withdraw military forces from population centers.
In 24 hours at least 2,741 Syrians fled down smugglers' paths to the barbed wire border fence, where they were met by Turkish border guards, the Prime Ministry Disaster and Emergency Management Directorate said. More than 23,000 Syrian refugees now reside in Turkey.
The surge prompted Turkey's foreign minister Ahmet Davutoglu to make a 2 a.m. phone call to U.N. Secretary-General Ban Ki-moon, inviting U.N. officials to witness the growing refugee crisis firsthand.
Davutoglu also told the U.N. chief he was receiving reports of Syrian military operations backed by helicopters from across the border.
"They are burning all the houses," one Syrian woman told journalists at the border late Thursday night, as she sat with other refugees in a van awaiting transport to a nearby refugee camp in Turkey.
"It was a massacre in a Taftanaz," said another woman, who asked not to be named for security reasons. "They butchered the people; they shelled and fired rockets; they displaced us. Bashar [al Assad] is an oppressor and a dog. May God have no mercy on him."
Thursday night, opposition activists sent CNN video and photos of the devastated northern town of Taftanaz.
The small rebel stronghold had been the target of days and nights of artillery bombardment as well as strafing from Syrian military helicopters.
On Thursday afternoon, Syrian security forces observed a cease-fire, opposition activists said, allowing Syrian Red Crescent workers to collect bodies.
Video filmed on Thursday showed dozens of corpses, all of them male and some of them dressed in camouflage uniforms, laid out on the floor of the Al Kabir mosque in Taftanaz.
Later, many of the dead were placed in a long, deep trench for burial. Grieving residents gathered around the mass grave.
CNN