Lebanon Environment Minister praises electricity leasing deal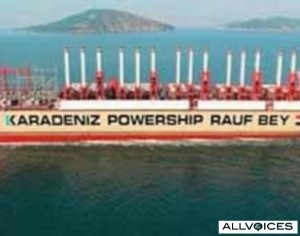 Environment Minister Nazem al-Khoury praised on Thursday the agreement to lease power-generating ships calling it the "best" deal .
"In my view, we reached the best deal… [if we take into consideration] the previous offers," Khoury told MTV television.
He added that he had reservations concerning the environmental impact of the ships and that "environmental conditions should be imposed according to international norms."
His comments come after Energy Minister Gebran Bassil confirmed on Thursday that the ministerial committee charged with studying the offers regarding the leasing of power-generating ships agreed to lease two power-generating ships.
The ministerial committee meeting was chaired by Prime Minister Najib Mikati at the Grand Serail, National News Agency reported on Thursday adding that committee members Finance Minister Mohammad Safadi, Bassil and Khoury were present at the meeting.
This development comes after the Cabinet agreed on Wednesday last week during a marathon session at the Baabda palace to lease for a maximum of three years power-generating ships to produce 270 megawatts and to the construction of 1,500-megawatt power plants.
Syria reneged on gas contract to supply Lebanon
Lebanon has been suffering from power blackouts for several years. In December 2001, Syria and Lebanon concluded a sales contract for the supply by the Syrian Petroleum Company (SPC) of 1.5 million cubic meter a day (cbm/d) of natural gas to feed the northern Lebanese power station of Dayr Ammar-Beddawi.
The contract called for the building of a 45Km pipeline, 12Km in Syria, linking the main Homs-Banias gas pipeline to the Syrian-Lebanese border and 33Km from the Lebanese border to the power station.
The agreement also left the door open for an extension of the supply of Syrian gas to Lebanon to up to 6 million cbm/d, with the most likely following step being the extension of the gas pipeline to reach the southern power station of Zahrani and supply it with another 1.5 million cbm/d.
The power stations in Lebanon were converted to allow for the use of the Syrian natural gas. The pipeline was also built on both sides of the borders and was ready to be operational in March 2005.
But after the assassination of Lebanon's prime minister Rafik Hariri which was blamed on Syria and forced Syria to leave Lebanon, Syria reneged on the contract .