Convicted Israeli spy Fayez Karam released after 9 months in jail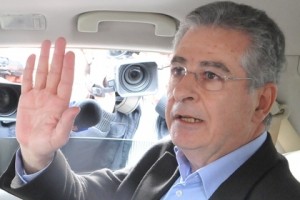 Former Brigadier General Fayez Karam was released from military prison, according to a report issued on Tuesday by the National News Agency. Karam, a senior member of Michel Aoun's political party, was arrested by the Police Intelligence Bureau arrested in August 2010 on suspicion of spying for Israel. Upon release, he headed to Rabieh where he will meet with Free Patriotic Movement leader MP Michel Aoun.
In September 2011, the permanent military court had sentenced Karam, 63, to three years in jail. However, it reduced the sentence to two years with hard labor with his civil and political rights being stripped. Parliament approved in March the reduction of the prison year to nine months.
More than 100 people have been arrested on suspicion of spying for the Israeli Mossad since April 2009, including members of the security forces and telecom employees.
Several have since been sentenced to death, including one found guilty of aiding Israel during its devastating 2006 war with Hezbollah.
The report added that "a convoy of cars" entered the military prison near the Ministry of Defense and that Karam "will be moved to his home in Zghorta."
However, before arriving in Zghorta, Karam told reporters that he would meet with Free Patriotic Movement leader MP Michel Aoun in Rabieh. He added that his imprisonment was "political."
Karam, a member of the FPM, was arrested in 2010. He was the first political figure to be detained in Lebanon as part of probe launched in 2009 into Israeli spy networks.
Now Lebanon, Naharnet