Hamadeh: Defeat of Iranian-Syrian axis to take place in 2013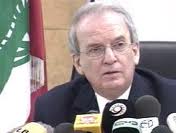 March 14 MP Marwan Hamadeh said on Monday evening that Prime Minister Najib Mikati's cabinet will not last until the 2013 parliamentary elections. The MP also commented on the current Syrian developments, saying Syrian President Bashar al-Assad was "crazy and a criminal."
Hamadeh also told Future News television that the 2013 parliamentary elections will witness "the defeat of the Iranian-Syrian axis," in an implicit reference to the March 8 coalition.
He added that Finance Minister Mohammad Safadi was wrong if he thinks March 8 will be capable of appointing him as a premier, adding that March 8 "cannot" do so.
Mikati's cabinet is mainly dominated by ministers affiliated with the Hezbollah-led March 8 coalition.
Lebanon's political scene is split between supporters of Assad's regime, led by the March 8 group, and a pro-Western camp represented by March 14.
Now Lebanon