From J.Lo to Najwa Karam, Zuhair Murad dresses superstars across the globe
By Rebecca McLaughlin-Duane When Jennifer Lopez stepped in front of the cameras in "that dress" at the Oscars last month, the talent of one of the Arab world's finest couturiers was once again centre-stage.
By Rebecca McLaughlin-Duane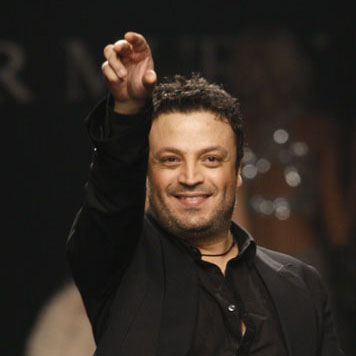 When Jennifer Lopez stepped in front of the cameras in "that dress" at the Oscars last month, the talent of one of the Arab world's finest couturiers was once again centre-stage. Responsible for setting fashion blogs and Twitter feeds alight, Lebanon's Zuhair Murad had created the star's nude silk tulle gown, with its hand-embroidered, transparent crystal beading; most memorable for its plunging back and neckline.
And, stop the press – when Lopez posed for pictures at the Academy Awards afterparty hosted by Vanity Fair, it was also Murad who dressed her in a fully beaded, burgundy long-sleeve gown with sheer embroidered silk panelling from his autumn/winter 2011/12 couture collection. The singer-actress's loyalty to the designer has strengthened over the years and would seem to confirm what his Middle Eastern private clients have long known: once you discover Murad, you don't give him up.
Muse and artist were in the same place this weekend, when the 41-year-old designer went to the One&Only Royal Mirage in Dubai for a private fashion show that featured a musical performance by a regional superstar.
"Najwa Karam, the famous singer, is wearing my dress tonight," he said. During the live-to-air Arab Idol finale on Friday night, where Karam was the guest of honour, she made a point of thanking Murad for the electric yellow and blue dress she wore that evening. "She wears my clothes all the time and we've worked together for five years now," said Murad. "I know her taste very well and she trusts me – that's how it works. At the moment, she's wearing a jersey silk dress in three colours – red, purple and violet."
Resplendent as the diminutive Lebanese vocalist was in her made-to-measure evening gown, she was somewhat overshadowed by the statuesque Russian models who preceded her act and strode the catwalk in the debut collection of Medni Kadyrova, wife of the Chechen president, Ramzan Kadyrov.
"I am guest of honour of the first lady," said Murad. "It's a great honour and pleasure to be here and participate in the event."
Evasive as he is creative, Murad was giving little away when the topic of a potential collaboration and development of a new line with Kadyrova was broached.
"Well, we don't know when it will come out," he said. "But we hope very soon. This is something new – it's only recent. But it is very interesting and I think it will be something amazing for sure."
"Before I design any collection, I usually go to museums"
Under the label, Firdaws, Kadyrova's couture and ready-to-wear gowns were characteristic of formal Chechen Islamic wear. High necklines, long sleeves and sheylas there may have been – but the collection's epaulette detail draped gowns and pastel dentelle ensembles were not too great a leap from memorable creations Murad fashioned for clients such as Princess Amira Al Taweel when she attended the wedding of the Duke and Duchess of Cambridge in the UK last April.
"The Chechens are very artistic when it comes to embroidery and their combination of colours," he said of the designs. "They have a lot of taste. And Islamic art itself is so unique – the minute you see it, you recognise it. One day, I assure you that one of the collections I produce will be inspired by it."
Murad's fascination with history, religion and ancient civilisations has often provided the creative spark for his women's, men's, bridalwear and accessories lines. Having opened his first atelier in Beirut in 1995, his distinctive, well-defined cuts have seen him prosper for nearly 20 years and his approach to the creative process has remained fairly consistent throughout.
"Before I design any collection, I usually go to museums," he says. "I delve into books for ideas and often take inspiration from designs quite different from my own. And sometimes, I desire to reproduce something old and bring it back in a modern way."
Unfortunately for Murad, there won't be much time for sightseeing or reading on this brief trip to the UAE, as his schedule is packed with high-profile appointments. His return, however, is guaranteed and he isn't closing the door on one day making an appearance at Dubai Fashion Week. "I hope one day I can do it," he says with a grin. "We're talking all the time!"
The National