Lebanese Army arrests man convicted of smuggling weapons to Syrian rebels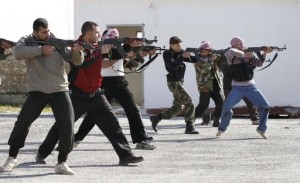 Military Examining Magistrate Imad al-Zain issued an arrest warrant on Thursday against a Lebanese national on charges of smuggling weapons to the Free Syrian Army, reported the National News Agency.
It said that Hussein A. was arrested after attempting to smuggle the arms through the border region of al-Qaa in the Bekaa.
Thousands of Syrians have fled to Lebanon since a revolt against the regime of Syrian President Bashar Assad broke out in March last year.
Syria has mined several regions along the porous border to prevent the smuggling of weapons and infiltration of rebel fighters, activists say.
Army Commander General Jean Qahwaji visited the border area in northern and eastern Lebanon on Wednesday to review the troops and evaluate the situation on the ground.
His office said Qahwaji discussed "measures taken to secure the border and protect residents."
Shortly after his visit, Syrian troops fired rocket propelled grenades into northern Lebanon during the night, sparking panic among the local population, a security official and residents said on Thursday.
The security official said heavy machinegun fire followed by shelling erupted at around 9:00 pm (1900 GMT) from the Syrian side of the border, near the Lebanese village of Muqaybleh, prompting some residents to flee.
There were no reports of casualties.
"The Syrian troops initially fired flares and then machineguns and rocket propelled grenades," the official, who requested anonymity, told AFP.
He said at least two rockets fell inside Lebanese territory.
A local official in Muqaybleh said a number of fearful residents fled the village overnight.
"People were scared," he said, adding that no one was injured and no houses were hit.
Lebanese media also reported shelling near al-Qaa.
A local official in al-Qaa told AFP that machinegun fire was heard overnight across the border but that no shells fell inside Lebanese territory.
At least three people have been killed since October and several have been wounded when Syrian troops staging incursions into Lebanon opened fire on border villages.
Lebanon and Syria share a 330-kilometer (205-mile) border but have yet to agree on official demarcation.
Naharnet