Tanks and helicopters used by Syrian forces in Damascus suburbs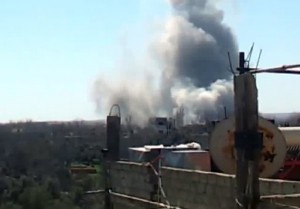 Syrian government forces used tanks and helicopters against insurgents in several suburbs of Damascus Wednesday, anti-government activists said.
Helicopters flew above as artillery and gunfire was heard in the suburbs of Harasta and Irbin. The New York Times quoted activists as saying the attack targeted army defectors who attacked government forces after they seized the cities from rebels two months ago, The New York Times reported.
In Indonesia, meanwhile, U.N. Secretary-General Ban Ki-moon called the crisis in Syria "extremely dangerous."
"We do not know how events will unfold," Ban said in Jakarta, calling the violence an "extremely dangerous crisis."
The battle between rebel forces and President Bashar Assad's troops "has potentially massive repercussions for the region and the world," Ban said.
An activist contacted by the Times using Skype said rebel attacks on an air force facility in Harasta has become a regular occurrence, with defectors shooting or tossing grenades and government forces responding.
Activists said two army soldiers were killed Wednesday in Daraa in a blast that targeted a military vehicle.
Protesters also said government forces shelled neighborhoods in the besieged city of Homs.
Russian Foreign Minister Sergey Lavrov criticized Assad Tuesday, saying he committed mistakes and "no one is inviting him to Moscow" if he resigns.
Observers said Lavrov's comments could indicate a slight shift for Russia, which along with China, has blocked efforts by the United Nations and leaders of Western and Arab countries to sanction the Assad regime amid calls for his ouster.
Despite his comments, Lavrov said Russia still is opposed to any U.N. Security Council plan to force Assad out and criticized opposition forces, the Times said. He also said western countries that want Assad removed are complicit in prolonging the conflict in Syria, which began a year ago.
UPI