Free Syrian Army: Hezbollah is fighting alongside the Assad regime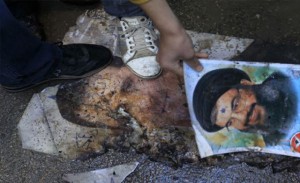 The leader of the Free Syrian Army's military operations, Brigadier General Hussam Awak, claimed that Iranian and Hezbollah brigades were fighting with the forces of Syrian President Bashar al-Assad in order to crackdown dissent. Lebanon's Shia group Hezbollah is backed by Syria and Iran.
Development and Liberation bloc MP Qassem Hashem on Sunday denied that members of Hezbollah and the Iranian Revolutionary Guard Corps are present inside Syria.
During an interview with the Free Lebanon radio station, Hashem said that there was a Lebanese "political group [taking part] in smuggling arms" from Lebanon to Syria.
He added that "disassociating Lebanon from the Syrian crisis" serves Lebanese interests.
The UN says that well over 7,500 people have died in the year-long crackdown on dissent by the Syrian regime.
Now Lebanon