Hezbollah refuses to allow Syrian refugee camps in Lebanon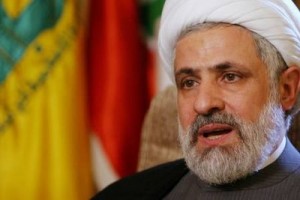 Hezbollah Deputy Secretary General Naim Qassem said on Saturday that his party will never accept the establishment of Syrian refugee camps in Lebanon.
"We cannot accept the establishment of Syrian refugee camps in Lebanon because such camps will turn into a military island against Syria first and then Lebanon," the National News Agency quoted Qassem as saying.
Qassem also slammed the March 14 coalition, saying that it is moving from one failure to another.
"Those who were betting on changes in Syria have failed, and March 14 is now moving from one failure to the other on the local and Syrian levels and on the level of its [political] project."
The UN says more than 7,500 people have been killed in the crackdown on Syrian protesters who have been demonstrating against the Baath regime since mid-March 2011. Thousands have fled to Lebanon, where the political scene is split between supporters of the Syrian regime – led by Hezbollah – and the pro-Western March 14 camp.
The Hezbollah official also brought up the issue of past cabinets expenditures.
"We cannot grant acquittals for unclear and illegal expenses," he said.
He also said that the accounts and records of former cabinets given by Siniora to the Court of Audit are not accurate.
"When they sent the information to the Court of Audit regarding the [expenditures of Siniora's cabinets], the Court of Audit asked the Finance Ministry after three weeks to send another copy of the records, and it turned out that the two copies are different, because the information in the first copy is unsettled and false."
The subject of the government's spending from 2006-2011, when no state budget was approved, is currently among the controversial issues on the political scene.
The cabinet on Friday approved in principle to contract a specialized company for assistance in auditing government spending from 1993 to 2010.
It also agreed on an amended formula to Finance Minister Mohammad Safadi's draft law on past cabinet spending.
Now Lebanon