Israel kills Palestinian militants in Gaza air strike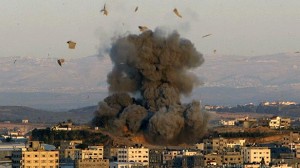 An Israeli air strike on the Gaza Strip killed the head of the Popular Resistance Committees militant group Friday, the movement said.
The PRC said General Secretary Zohair al-Qaisi was one of two Palestinians killed in the strike, along with fellow-member Mahmud Halani, hours after Palestinians fired mortar rounds into Israel.
Medical officials told AFP a third man was seriously wounded in the attack on a car travelling in the Tel El-Hawa neighborhood, West of Gaza City.
The Israeli military said Qaisi "was among the leaders who planned, funded and directed" a deadly cross-border attack into southern Israel from Egypt's Sinai last August, among other operations.
In that incident, gunmen carried out a coordinated series of shooting ambushes on buses and cars on Route 12, which runs along the Egyptian border some 20 kilometers (12 miles) North of the Red Sea resort of Eilat.
The attacks took place over several hours, leaving eight dead and more than 25 wounded.
The statement added that both the dead men were "responsible for planning a combined terror attack that was to take place via Sinai in the coming days."
Earlier Friday, Palestinian militants in Gaza fired two projectiles into southern Israel without causing any casualties or damage, the military said.
A spokesperson initially said they were rockets, but army radio later referred to them as mortar shells.
Hamas, which rules the Gaza Strip, has maintained a tacit truce with Israel, but other armed Palestinian groups regularly fire rockets and mortars across the border, which can spark air strikes in response.
The relatively small Popular resistance Committees is one of the most active.
"We are not committed to the truce; we will respond very strongly to this [Israeli] crime," Abu Ataya, a spokesperson for the PRC's military wing, the Al-Nasser Brigades, told AFP.
Before Friday's air strike Israeli army radio quoted what it called "senior military sources" as saying the army "does not intend to allow the firing to continue."
On Wednesday Israeli troops entered northern Gaza, briefly sealing the Erez border crossing between the Palestinian territory and Israel, Hamas officials said.
The military said "the army entered the area to stop terrorist activities."
Israeli troops regularly make brief incursions into Gaza, despite formally withdrawing from the territory in 2005.
Now Lebanon