Hariri: Assad a murderer on par with Israel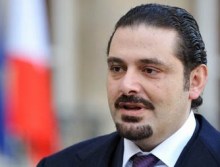 Former Lebanese prime minister Saad al-Hariri, whose father was killed in a bombing often pinned on Syria, said on Wednesday that Syrian President Bashar al-Assad was leading a murderous campaign against his own people.
"There is a murderer called Bashar al-Assad's regime, who commits daily, red-handed, dozens of killings documented in video and audio all over Syria," Hariri, speaking live on camera from abroad to a meeting of his Mustaqbal party in Beirut, said.
Hariri's father, the former statesman Rafik al-Hariri, was killed in a car bomb in 2005 and Syria is often listed as a potential suspect behind the attack, though only four members of Hezbollah have been indicted by an international court.
Hariri, a Sunni Muslim politician whose government was toppled last year by allies of the pro-Syrian Hezbollah, said Assad was conducting a "war" against Homs, the city that has been battered in an army onslaught, forcing thousands to flee.
"There is a city called Homs, on which Bashar al-Assad has launched a war that is no less ferocious, vicious and cruel than Israel's war against Lebanon and Gaza," Hariri said.
Israel fought a war with Hezbollah in 2006 that killed 1,200 people in Lebanon and 159 in Israel. Its war on the Palestinian Islamist group Hamas, which controls the Gaza Strip, claimed 1,400 Palestinian lives and 13 Israelis.
Since Syria's crackdown began last year on the revolt against four decades of Assad family rule, Lebanon has been divided over how to respond to the unrest in its powerful neighbour.
Many politicians had been silent about the unrest gripping a country that has a legacy of dominating Lebanon's politics since its long and bloody civil war, but in recent months most political leaders have taken stronger positions.
Syrian forces maintained a presence in Lebanon until 2005, pulling out under pressure from large protests and international outrage after Hariri's death.
The U.N.-backed Special Tribunal for Lebanon said last year it would try the four Hezbollah suspects in Hariri's killing in absentia and said it hoped to start trials in 2012.
Reuters