Parliament session postponed to March 15 due to boycott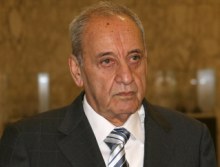 A boycott by the lawmakers of March 14 and the National Struggle Front which is headed by MP Walid Jumblatt forced Lebanese speaker Nabih Berri to postpone Monday's parliament session until March 15 due to the lack of a quorum.
There were conflicting reports about the number of MPs that attended. MTV reported that only 56 lawmakers out of 128 attended, while National News Agency said 59 MPs attended.
Before the decision to adjourn the session, Berri held talks with PM Najib Mikati, FPM leader Michel Aoun, Marada Movement leader Suleiman Franjieh and Hezbollah MP Mohammed Raad.
The dispute between the rival parliamentary blocs is over the handling of expenditures by previous Cabinets in the absence of approved budgets . Prime Minister Najib Mikati's Cabinet has forwarded to Parliament a draft law to legalize the so called " extra-budgetary expenditure" of around $6 billion by his Cabinet in 2011.
During a Parliament session last month, March 14 MPs rejected the draft law, saying it only partially addresses the problem. They said that the $11 billion " extra-budgetary expenditure" spent under the Cabinets of former Prime Minister Fouad Siniora between 2006 and 2009 and $5 billion by former Prime Minister Saad Hariri's Cabinet in 2010 should be also legalized , but March 8 bloc did not agree.
Lebanese governments have been running the country without an approved budget since 2005.