Syrian people have the right to self-defense ; Saudi FM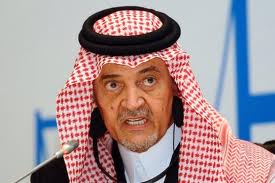 Saudi Arabia's Foreign Minister Prince Saud Al-Faisal said Sunday it was perfectly legitimate for the Syrian opposition to take up arms for self-defense against "a regime which uses repression and killing systematically to remain in power."
"To change the regime in Syria is the Syrians' responsibility," the minister said at a press conference following the regular GCC foreign ministers' meeting here.
"What matters for the Gulf Cooperation Council (GCC) member states is how to protect the Syrian civilians from the ongoing atrocities and displacement," Prince Saud made clear.
"The international community failed to stop the bloodshed and massacres being committed against the Syrian people who aspire for freedom and political reforms," he regretted, noting that the Syrian regime failed to honor the pledges made in this regard.
Prince Saud expressed disappointment at the stance of Russia, saying that the Russians and the other allies of the Syrian regime should rather advise the regime to meet the legitimate aspirations of the people.
From the very beginning of the crisis of Syria, the Kingdom of Saudi Arabia made sincere efforts to end a peaceful solution. King Abdullah Bin Abdulaziz contacted Syrian President Bashar Al-Assad and advised him to start implementing genuine reforms that could meet the aspirations of the Syrian people or give way for anyone else to do so, he recalled.
Asked whether Syria would participate in the upcoming Arab Summit in Baghdad later this month, the Saudi foreign minister said the Arab League's Ministerial Council decided before to suspend Syria's participation in all activities of the league.
As for the level of participation in the Baghdad summit he said it depends on the atmospheres and preparations made by the Iraqi government including its position on the Syrian crisis and the progress of the political process in Iraq.
Prince Saud reaffirmed the commitment of the GCC countries to the efforts aiming to stabilize Iraq and maintain its national unity and sovereignty, noting that all these are among the prerequisites of the success of the planned Arab Summit.
KUNA