Suicide blast in Daraa, southern Syria kills 2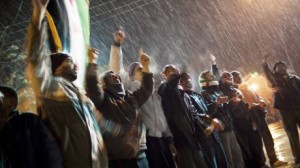 A suicide car bomb has exploded in a southern Syrian city known as the birthplace of the country's uprising, state media reported.
The blast came as Syria continued to block a Red Cross convoy from delivering badly needed aid to a rebellious neighbourhood in the central city of Homs.
The Sana news agency said the suicide bombing occurred at a roundabout in the heart of Daraa, an area known as Daraa al-Balad, causing multiple casualties and damaging buildings and shops.
The British-based Syrian Observatory for Human Rights said at least two people were killed and several others wounded in the explosion.
Syria has seen a string of suicide bombings, the last on February 10, when twin suicide bombs struck security compounds in the government stronghold city of Aleppo, killing 28 people and bringing significant violence to the city for the first time.
The capital Damascus, another stronghold of President Bashar Assad, has seen three suicide bombings in the past two months.
The regime has touted the attacks as proof that it is being targeted by "terrorists". The opposition accuses forces loyal to the government of being behind the bombings to tarnish the uprising.
The latest bombing in Daraa marked the first time a suicide attack had struck an opposition stronghold. Daraa is the birthplace of the nearly year-old uprising against Assad. The revolt has killed more than 7,500 people, according to most recent UN estimates.
Elsewhere, Syrian troops shelled several districts in the rebellious central city of Homs where a stand-off continued between a Red Cross convoy and the government that has blocked the delivery of food, medical supplies and blankets to the thousands still stranded in the area.
Abu Hassan al-Homsi, a doctor at a makeshift clinic in Khaldiyeh district of Homs, said he had treated a dozen wounded. He added: "This has become routine, the mortars start falling early in the morning."
The Press Aassociation
Photo: Free Syrian Army supporters chant anti-government slogans in Idlib , northern Syria