Syrian forces batter rebels, U.N. body condemns Syria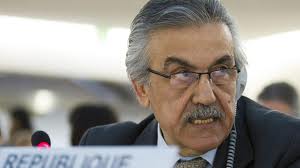 Elite Syrian forces trying to destroy rebels besieged in Homs pounded the shattered district of Baba Amro on Thursday, despite international alarm at the plight of civilians trapped there.
Snow blanketed the city, slowing down the military assault, but also worsening conditions for civilians, activists said.
"We have not seen such snow in Homs in years. The bombardment on Baba Amro and other parts of the city is continuing but the fighting has subsided after the army was repelled yesterday," activist Abu Imad said from Homs.
He said casualties on both sides had been heavy, but no tally was available because of the fighting and bad weather.
Syrian President Bashar al-Assad is increasingly isolated in his struggle to crush an armed insurrection that now spearheads an almost year-long uprising against his 11-year rule.
But Russia, China and Cuba voted against a resolution, adopted overwhelmingly by the 47-member U.N. Human Rights Council in Geneva, that condemned Syria for violations that may amount to crimes against humanity.
A senior official in the rebel Free Syrian Army told Reuters that outgunned fighters in Baba Amro were fending off more than 7,000 government troops. Opposition forces had promised to step up attacks elsewhere in Syria to try to relieve the pressure.
"Baba Amro will be the straw that will break the regime's back," Mohaimen al-Rumaid said from an area in Turkey near the Syrian border. "All of Syria is turning into Baba Amro."
Heavy shelling resumed overnight after several hours of sporadic bombardment, opposition sources in the city said.
The exile opposition Syrian National Council said on Thursday it had formed a military council to oversee and organize armed anti-Assad groups under a unified leadership.
"The creation of the military council was agreed upon by all armed forces in Syria," SNC leader Burhan Ghalioun told a news conference in Paris. "We will be like a defense ministry."
The SNC has been under pressure from within Syria for not overtly backing the armed struggle led by the Free Syrian Army, made up of army deserters and other insurgents.
With Assad's forces closing in rebels in Homs, the SNC appealed for help late on Wednesday, urging the U.N.-Arab League envoy on Syria, Kofi Annan, to go to Baba Amro "tonight."
Annan said in New York he expected to visit Syria soon and urged Assad to engage with efforts to end the turmoil.
Syria, which denied entry this week to U.N. humanitarian aid chief Valerie Amos, adopted a guarded approach to Annan's role.
The state news agency SANA quoted Foreign Ministry spokesman Jihad al-Maqdisi as saying the government was "waiting for a clarification from the U.N. on the nature of his mission."
The Foreign Ministry also said Amos had asked to come at an "inconvenient" time, but that it was ready to discuss a new date for her to visit.
GROUND ASSAULT
The ground assault on Baba Amro followed more than three weeks in which besieging forces have battered the enclave and other rebel districts with rockets, shells and mortar rounds.
But Rumaid, a member of the Higher Military Council overseeing the Free Syrian Army, said the lightly armed rebels using assault rifles, mortars and machineguns were holding out.
"Infantry fighting goes on. The men are still resisting and Assad's army is shelling Baba Amro but it has not gone deep beyond its perimeters," he said.
Reports from the city could not immediately be verified due to tight government restrictions on media work in Syria, where Assad is facing the gravest challenge of his 11-year rule.
Activists in Homs said it was in desperate shape, without power or telephone services. Water, fuel and food were also in short supply.
"Homs is cut off from the world," an activist statement said. "Martyrs are being buried in gardens and public parks because the presence of army snipers prevents taking them to cemeteries."
It said hospitals were only treating pro-Assad militiamen, while makeshift medical centers had run out of medicine.
"Doctors and nurses who used to serve in the makeshift hospitals and clinics are no longer there because of the raids on these facilities and the threat that their families will be killed," the statement said.
MOUNTING CONCERN
Western and Arab governments, which have already called on Assad to step down and end the bloodshed, expressed mounting concern for the fate of civilians trapped in Homs.
"I am appalled by reports that the Assad regime is preparing a full-scale land assault on the people of Homs," Britain's Foreign Secretary William Hague said.
Britain has withdrawn all diplomatic staff from Syria and suspended services at its embassy in Damascus in response to worsening security in the country, a diplomat said on Thursday.
Russia, which along with China, has shielded Syria from U.N. Security Council action, is emerging as a pivotal player in diplomacy aimed at halting the bloodshed and relieving the humanitarian plight of civilians caught in conflict zones.
Moscow has invited Annan for talks on Syria and, according to Kuwaiti officials, will send Foreign Minister Sergei Lavrov to meet his Gulf Arab counterparts in Riyadh next week.
Saudi Arabia and Qatar have led calls for the world to arm Syrian rebels following last month's Russian-Chinese veto of a draft U.N. Security Council resolution on Syria.
Syria's Maqdisi told Lebanon's Hezbollah-run al-Manar television that the Saudis and Qataris were "singing from the same hymn sheet" as al Qaeda leader Ayman al-Zawahri, who has urged Arabs and Muslims to support anti-Assad insurgents.
Kuwait's parliament, dominated by Islamists, said it had agreed to support the Free Syrian Army and urged the Kuwaiti government to cut relations with Syria.
The United States and its allies are seeking a new Security Council resolution on Syria, which Western envoys said would focus on humanitarian problems to try to win Chinese and Russian support, but would also suggest Assad was to blame for the crisis, a stance Moscow has opposed.
The United Nations says Assad's security forces have killed more than 7,500 civilians since the revolt began last March. Syria's government said in December that "armed terrorists" had killed more than 2,000 soldiers and police during the unrest.
Photo: Fayssal al-Hamwi Syrian Ambassador in Geneva during the 19th session of the Human Rights Council, at the European headquarters of the United Nations in Geneva, Switzerland, Feb. 29, 2012.
Reuters