Under siege, Syrians flee to Lebanon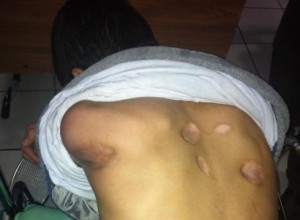 Maher Mohamed balances a laptop on his wasted legs so that he can browse Facebook. On his laptop there is a video. It shows the peaceful demonstration he was at when Syrian security forces opened fire on the crowds.
On the teen's back there are six holes from where he was shot. On his feet there are two more. He can't feel the wounds because Maher is paralyzed from the waist down.
"The Assad regime says we are terrorists," he says. "Do I look like a terrorist to you? If I was a terrorist, would I stand in front of a tank? I'm a civilian; I'm a protester."
Maher is among thousands of Syrians who have fled their hometownsto escape a military bombardment ordered by Syrian President Bashar al-Assad. Assad has said he is cracking down on an uprising of terrorists and thugs. The Syrians here say the people have risen up against a brutal dictatorship and want their freedom.
Representatives from more than 50 countries met Friday in Tunis, calling for a cease-fire and Assad to step down. Even so, Syrian activists say more forcefulness is needed.
"There is no language of force; there are no teeth behind the words they are uttering. Sanctions? (Assad) won't become hungry, let's put it that way," says London-based Syrian activist Abdul Omar.
Omar and others say that more than 7,000 people have been killed since the uprising against the Assad regime began in March.
'Consider him a dead man'
Maher was 15 on April 29 when Assad's security forces attacked the demonstration he was attending in a village near the besieged city of Homs.
He says he saw 15 or 20 people die around him that day. He escaped when opposition activists smuggled him across the heavily mined border between Syria and Lebanon, sometimes on motorcycles, sometimes simply on the backs of men.
In Homs, residents of some neighborhoods are unable to leave their homes because of constant shelling by government forces. Food supplies are running out, and the Syrian army is targeting water tanks and any civilians spotted out in the open, residents of Homs told USA TODAY via telephone.
Many have slipped over the border to Lebanon. Here in one apartment in Tripoli, 25 people are crowded into a squalid unit in a rundown neighborhood.
The people here say they left Homs 2½ months ago as the siege became unbearable.
"If someone wanted to pick up a loaf of bread, you can consider him a dead man," says Abu Mohammed, one of the men staying there with his two young daughters. "You can't even take your trash out of the house."
As the days wore on, the smell of garbage was overwhelming. When Abu Mohammed opened the door to toss out the trash, snipers fired at him, he says.
Communications are down so it is impossible for Abu Mohammed to reach the relatives who remain in Homs as the bombardment intensifies.
His 60-year-old father, Abu Ahmed, wheezes under a blanket in the main room of the family's temporary home. A tube runs from his nose to an oxygen tank. He can barely afford the drugs he needs to allow him to breathe, the family says.
Abu Ahmed says the small sum of money he smuggled out of Homs in a pouch hidden beneath his shirt has been exhausted paying the rent and buying food for the 15 children living there.
'We need the mercy of God'
In a Tripoli hospital run by a Syrian opposition group called the High Commission for Syrian Relief (HCFSR), workers tell of a growing exodus.
The head of the HCFSR in Tripoli is Abu Ra'id, a former lawyer from Homs. He estimates that there are 14,000 Syrians taking refuge in Lebanon. In the past 20 days, 113 Syrian families had fled to Lebanon.
In one hospital room, three Syrians lay wounded, one too weary to lift himself from his bed.
Hamza arrived in Lebanon four days ago, crossing the border illegally on a motorcycle. He had been shot in the eye. His wife and young daughter are still in Homs; he is unable to contact them.
"I want to be done with the recovery so I can return," says Hamza, who asked his full name not be used because he was afraid of reprisals from the Syrian military. "To be killed there is better than to stay here."
Hamza was despondent about the prospects for international intervention.
"Nobody is doing anything, and I think the international community wont do anything until everybody is killed," he says.
"We need the mercy of God."
Like many other Syrians, Burhan Abu Tala, 26, an activist in Tripoli, questions why the international community came to the aid of the Libyan revolutionaries last year and not the Syrians. Then he answers his own question.
"Because they have oil and Syria does not. Does that mean that Syrian blood is cheap?" he asks. "Where is the U.N.?"
USA today
Photo: Maher Mohamed, was shot in April during an anti-Assad demonstration in his home village near Homs, Syria. On his back there are six holes from where he was shot. / By Portia Walker, for USA TODAY