Jumblatt calls for arming Syria's opposition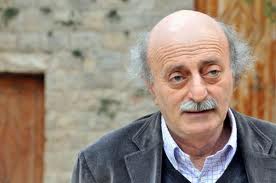 During an interview with French newspaper Le Monde, Progressive Socialist Party leader MP Walid Jumblatt called for arming the Syrian opposition and said that Syrian president is suffering from megalomania.
Jumblatt who has become one of Syrian President Bashar Assad's staunchest critics also called on the Syrian opposition to unite its political ranks in its struggle against the Syrian regime.
The PSP chief, who is also a key Druze leader, addressed the Druze community in Syria saying: "I do not want to sound sectarian [but] the Syrian regime is promoting coalitions comprised of minority communities ."
"The Druze in Syria are either with the Syrian regime or against it. The Druze have a history of resisting occupiers…They fought against the French colonial power and it is time for them to take a stand against the tyranny of the Syrian President Bashar al-Assad's regime which is killing Syrian citizens."
Jumblatt told the French newspaper that he has not been to Syria since June 9, 2011.
Asked if the Syrian president was a reformist and those who are close to Assad prevented him from going on with his reforms, the Druze leader said that this is a "lie."
"This reformist couldn't bear a minimum amount of change during the Damascus Spring in the year 2000… He had imprisoned many people back then," Jumblatt told the French daily.
He stressed that "Dictatorships cannot undergo change " and said Assad is suffering from megalomania.
Asked about whether the Syrian regime will collapse soon, Jumblatt said: " Unfortunately not at all, I was hoping so."
Jumblatt explained that Western countries have [used] the Russian and Chinese vetoes [at the UN Security Council] as an excuse " not to aid the Syrian people."
Jumblatt added that the downfall of the Syrian city of Homs "will not" lead to the collapse of the Syrian opposition, "but will facilitate the Syrian regime's [efforts] to take control of the strategic passageway that links [Homs] to [the Syrian port of] Tartous."
"This will reinforce the Russian-Iranian-Syrian alliance." He said
Earlier in February, Russia and China, permanent members of the Security Council, vetoed a resolution denouncing Syria for its deadly crackdown on protests.
According to activists more than 7,600 people have been killed in violence across Syria since anti-regime protests erupted in March 2011.