Ban to appoint Kofi Annan as U.N. Syria envoy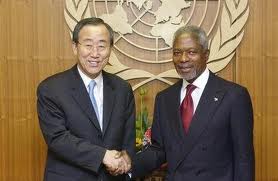 U.N. Secretary General Ban Ki-moon is planning to ask his predecessor, Kofi Annan, to serve as his new U.N. envoy to Syria, turning to a high-profile diplomat with extensive experience in the region, and a history of dealings with President Bashar al-Assad, to help halt the spiraling violence in Syria.
If he accepts, it would be Annan's first major diplomatic troubleshooting effort since 2008, when he led an African Union mediation effort aimed at ending a post-election civil war in Kenya. Annan received international plaudits for his success in persuading the Kenyan President Mwai Kibaki and Raila Odinga to form a coalition government.
A Nobel Peace Prize laureate, Annan earned a reputation as a forceful proponent of human rights, promoting the doctrine that states have a responsibility to protect their own citizens, and building up the U.N.'s institutional capacity to monitor rights violations in peacekeeping missions. But he is also associated with some of the U.N.'s greatest human rights failures, including leading the U.N. peacekeeper department at a time when the U.N. failed to intervene to halt mass atrocities in Srebrenica and Rwanda.
The U.N. General Assembly adopted a resolution last week condemning Syria's violent crackdown on anti-government demonstrators and asking the United Nations chief to appoint a special envoy to support an Arab League initiative for a political transition in Syria to a government of national unity.
Ban will be in London tomorrow, but is expected to announce the new appointment as a high-level diplomatic meeting takes place in Tunis, where top Western and Arab diplomats, including U.S. Secretary of State Hillary Clinton, are set to discuss Syria's future. The selection of Annan sends "a clear message that this is at the top of the international communities agenda," said one council diplomat. "He's clearly a politica heavyweight."
FP