Aoun:'The cabinet should tackle Nahhas' resignation, not me'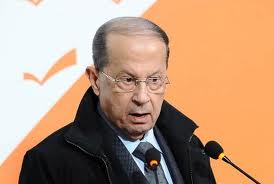 FPM leader MP Michel Aoun told reporters after the Change and Reform bloc weekly meeting that he has not yet made up his mind on whether he should approve (Labor minister Charbel ) Nahhas' resignation or not adding that the government should tackle Nahhas' resignation, not him.
I have not yet made up my mind on whether I should approve Nahhas' resignation or not adding " The government should tackle Nahhas' resignation, not me."
Aoun criticized Mikati for suspension of the cabinet over the transportation allowance issue.
"We were surprised by the past few developments…. the premier said that he suspended the cabinet sessions because of a dispute over administrative appointments, but in the end it turned out that the problem was related to the transportation allowance."
Aoun: We thank Nahhas for cooperating with us.
42 minutes ago
Aoun said he had reached an agreement with Speaker Berri and PM Mikati over how to sign the decree on transportation allowance and agreed on the legal course that should be taken but Nahhas' circumstances prevented him from going ahead with the agreement.
" Nahhas did not sign the decree, which created a dispute between him and us. The dispute has nothing to do with government pressure." aoun said adding :"We support Labor Minister Charbel Nahhas' decision not sign the law."
Earlier today Nahhas submitted his resignation from the cabinet to Aoun, Voice of Lebanon radio station reported . Aoun according to VOL was studying the matter and that Nahhas is reportedly leaving the final decision up to Aoun.
Al-Mustaqbal newspaper reported that Hezbollah informed Mikati on Sunday that its secretary general Sayyed Hassan Nasrallah expects Nahhas to sign the decree on Tuesday one day before the parliamentary session is held.
Untouchable
Aoun said during an interview with New TV on February 13 that Nahhas "will not leave the government."
"Let the prime minister quit" instead, Aoun said
"Charbel Nahhas is part of a bloc. If Charbel Nahhas is touched, the entire Cabinet will be brought down," Aoun said
On the other hand Nahhas said on February that he ""will not sign the transportation allowance decree even if all the 29 ministers voted against him , not only the two-thirds of the cabinet."
"Whoever is able to oust me then let him do so," Nahhas told New TV.