Bassil: our bloc represents the Christians, not Suleiman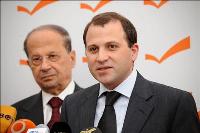 Energy Minister Gebran Bassil, said Sunday evening that the Change and Reform bloc ( which is headed by his father-in-law MP Michel Aoun ) "represents Christians while the President of the Republic is just a a referee."
Bassil was criticizing the president for calling on Labor Minister Charbel Nahhas to resign if he does not sign the decree on transportation allowances.
" The transportation allowance] is illegal and when it [is passed as a law] in parliament, then it would become normal for [Labor Minister Charbel Nahhas] to sign it," he told OTV.
Nahhas has been refusing to sign the decree that had been negotiated between the Economic Committees and the General Workers Union during a cabinet session at Baabda presidential palace.
The labor issue is not about Christians only since it affects all the Lebanese workers.
On February 1 Prime Minister Najib Mikati said that he will no longer convene the cabinet unless "actions of obstruction" end.
The president of Lebanon according to the constitution has to be Christian Maronite. Like Suleiman Aoun is a Christian Maronite who has been trying hard to get to the Baabda palace but so far he has failed despite his alliance with the Iranian and Syrian backed Hezbollah, the only armed group in Lebanon.