China paper praises defiance against UN Syria vote
BEIJING—China courageously defied the West when it opposed a U.N. resolution that condemns human rights violations in Syria, a ruling party newspaper said Saturday.
The nonbinding resolution was overwhelming approved in the U.N. General Assembly on Thursday but vetoed by Russia and China. The vote, mirroring an earlier one in the U.N. Security Council, indicates China's rising influence in world affairs, the Global Times editorial said.
"The country's courage to truly express itself and to calmly stand its ground is worthy of merit," the paper said.
"It is wrong to blindly come down on the side of the West in each vote," it said.
Global Times is published by the Communist Party's flagship People's Daily newspaper and its editorials generally reflect the more pugnacious, jingoistic side of government opinion.
The nonbinding resolution backs an Arab League plan calling for Syrian President Bashar Assad to step down and strongly condemning human rights violations by his regime. China, which carried out a bloody crackdown on pro-democracy protesters in 1989, has refused to condemn Syria over the violence.
Beijing's authoritarian leaders generally oppose any moves that could lead to humanitarian interventions, such as last year's NATO air campaign in Libya, and have themselves used overwhelming force against anti-government protests in Tibet and the traditionally Muslim northwestern region of Xinjiang.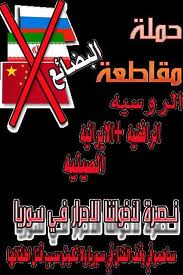 Saturday's editorial gave no detailed justification for China's opposition to the resolution. Beijing's diplomats have said sanctions and condemnation would only complicate Syria's dilemma, although they support a negotiated settlement to the violence and urge Assad to honor reasonable demands for political reform.
China has sought to deflect some of the stinging international criticism over its veto of the Security Council resolution with stepped-up diplomacy, following the example set by Russia. A Chinese envoy met with Assad on Saturday on a trip to Damascus, but appeared to have made no breakthroughs.
Vice Foreign Minister Zhai Jun called on all sides in Syria to stop the violence, and said he is hopeful that the authorities will restore stability soon.
Syria has seen one of the bloodiest crackdowns in the Arab uprisings that began a year ago. The U.N. says more than 5,400 people were killed in Syria last year, and the number has risen daily. In addition, 25,000 people are estimated to have sought refuge in neighboring countries and more than 70,000 are internally displaced.
Associated Press