Aoun meeting with Berri over cabinet crisis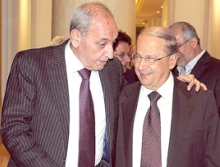 Free Patriotic Movement leader MP Michel Aoun is currently meeting with Speaker Nabih Berri at his residence in Ain el Tinah in west Beirut.
Berri is reportedly trying to intervene to end the cabinet crisis.
Labor Minister Charbel Nahhas a member of Aoun's Change and Reform bloc refuses to sign the decree on transportation allowances that was agreed upon by the cabinet in Baabda after a deal was reached between the Economic Committees and the General Workers Union. Nahhas calls the decree "illegal".
PM Nagib Mikati threatened not to hold any cabinet sessions before this issue is resolved.
Mikati said on Wednesday after holding talks with Berri in Ain el-Tineh that the cabinet crisis which erupted earlier in the month hasn't been resolved yet.
Asked by reporters when he would call for a session, he said: "When the issue is resolved, we would immediately call for a meeting."
Lebanese MPs who met with Berri on Wednesday quoted him as saying that he is not "yet convinced about intervening to resolve the current governmental crisis," National News Agency reported.