Jumblatt: Taif is dead, need new accord between Sunnis, Shiites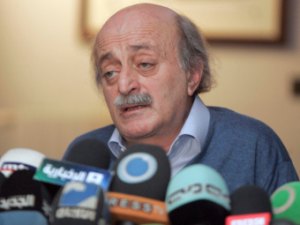 Progressive Socialist Party leader MP Walid Jumblatt said on Wednesday that Lebanon that the Taif Accord is dead and Lebanon needs a new accord between Sunnis, Shiites, National News Agency reported.
" Taif is dead. We need a new Taif [Accord] between the Sunnis and the Shiites, that is why we need a new settlement," he said.
He added that "there are no fears of a civil war" in Lebanon.
Jumblatt's comment come one day after former PM Saad Hariri reiterated adherence to the 1989 Taif Accord during the rally held by the March 14 forces to mark the seventh anniversary of the assassination of former Lebanese PM Rafik Hariri.
During a seminar organized by the Friends of ( (his father) Kamal Jumblatt Association on the topic of "The Rise of Islamists and Fundamentalism to Power in the Arab Countries", Jumblatt reassured the audience that "the revolutions in Egypt, Tunisia and Libya … are not in danger."
Commenting on the situation in Syria he said
"We are concerned about for Syria, from where we heard about a miracle today, which was the issuing of a new constitution and abolishing Article 8" of the old constitution, which stipulates that the ruling Baath Party is the "leader of the state and society."
"The best thing for the Baath Party is to leave and this will be the beast way to resolve the crisis," Jumblatt stressed
Syrian President Bashar al-Assad issued a decree on holding a referendum later this month for a new constitution that would effectively end nearly 50 years of single party rule, state media said Wednesday.
Commenting on Russia and China, who used a rare double veto at the U.N. Security Council to block a resolution condemning Assad's brutal crackdown on dissent, Jumblatt said the two countries want Assad to remain in power in order to preserve their own interests.
"They have refused any Yemen-style settlement and the situation will become worse should the bloodshed persist," he added.
Syria has witnessed anti-regime protests since mid-March. More than 10,000 people have been killed in the regime's crackdown against the pro-democracy protesters according to activists