GCC considering formal recognition of Syrian opposition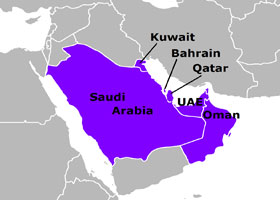 Gulf Cooperation Council (GCC) states are paving the way for regime change in Syria as they consider extending formal recognition to the Syrian Transitional Council (STC) as the representative of the Syrian people in a move that would mark the end of official relations with the Bashar Al-Assad regime.
Earlier this month, GCC member states withdrew their ambassadors from Syria to protest mounting violence between the regime and an almost year-old armed insurgency.
Bashar assumed power in 2000 following the death of his father, longstanding president Hafez Al-Assad.
Proposed recognition of the STC was considered at a meeting of GCC representatives that convened Sunday morning in Cairo ahead of a limited Arab foreign ministerial meeting on Syria. The latter meeting is scheduled to be followed by a more comprehensive Arab foreign ministerial meeting on the same issue.
An Arab League source told Ahram Online that there was a "degree of apprehension" on the GCC's current approach to Syria in view of the confused situation on the ground inside the troubled country and in view of the many unanswered questions that leading Arab capitals – including Cairo – continue to have about who would eventually replace Al-Assad.
The same source said that some states were also concerned that GCC recognition of the STC might prompt Al-Assad to ratchet up the crackdown on the heavily-armed opposition and lead Syria into a civil war.
Arab diplomats taking part at the meeting, however, said the decision to recognise the STC – or maintain contact with the Al-Assad regime – was each state's sovereign prerogative. Some states, they predicted, would likely recognise the STC while others would maintain ties with Damascus – at least for the time being.
Meanwhile, Arab League Secretary-General Nabil El-Arabi is mulling the appointment of former Jordanian foreign minister Abdel-Illah Al-Khatib to head the league's mission in Syria. Al-Khatib would be mandated with verifying Syria's commitment to implementing earlier promises to end the violence and release political prisoners.
El-Khatib had also been the UN secretary-general's envoy to Libya following the adoption of a UN Security Council resolution last year to provide protection to the Libyan rebels who ultimately overthrew and murdered Libya's longstanding ruler Muammar Gaddafi.
Notably, Sudanese general Mohamed Al-Dabbi, who had headed up the league mission to Syria, resigned from the post Sunday morning.
Ahramol