Angry Over Syria, Arab World Threatens Russian Boycott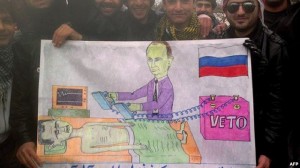 Russia and China may have surprised few when they vetoed a draft UN resolution on February 4 condemning the Syrian regime's nearly yearlong crackdown against anti-government protesters.
But they angered many. U.S. Secretary of State Hillary Clinton called the move a "travesty." UN Secretary-General Ban Ki-moon warned of "disastrous" consequences for the Syrian people.
And Nabil Elaraby, the head of the Arab League — which, together with the West, had backed the resolution calling for the removal of Syrian leader Bashar al-Assad — suggested there was no excuse for any country to exercise its veto rights when basic human rights were at stake.
As the violence continues unabated in Syria, where an army bombardment of the city of Homs is now in its seventh straight day, Arab activists have called for a boycott of Chinese and Russian goods.
The initiative began in Syria, where the country's Muslim Brotherhood issued a communique saying that any Arab citizen who used a Russian or Chinese product was "dipping his hand in the blood of the Syrian people."
​​Since then, the call has spread throughout the Arab world, with journalists and online activists in Jordan, Saudi Arabia, and elsewhere urging a one-day boycott of all Russian and Chinese goods on February 12, with the possibility of more protracted boycotts in the future.
Numerous Facebook campaigns have been created in support of the boycott.
The Union of Arab Intellectuals used its Facebook page to declare "a total cultural and economic war on the Russian bear and the Chinese dragon."

The largest page, "Campaign to Boycott Chinese and Russian Goods," currently has more than 6,500 supporters and offers links to videos, such as one showing Syrian children throwing Chinese-made dolls and toys into a blazing fire.
Unbalanced Boycotts
But the call for a China-Russia boycott is a decidedly unbalanced proposition.
With the global saturation of affordable Chinese products — from plastic toys to T-shirts to mobile phones — the notion of an absolute boycott is difficult to imagine nearly anywhere, not least in the Arab world, which has almost $200 billion in trade with China annually.
Moreover, the energy-rich Arab countries provide more than one-third of China's oil needs, as well as supplying petrochemical products and fertilizers to China's fast-growing economy. It's a relationship that few Arab rulers may be willing to risk for the sake of a political gesture.
Russia, by contrast, has comparatively less to offer. With neither side in need of energy imports, trade between Russia and the Arab world is estimated at just $8 billion to $12 billion a year.
The notion of a Russian boycott has sparked some tongue-in-cheek musings about ordinary Arabs giving up vodka, fur hats, and tinned sprats for the day.
But in fact, the largest Russian import to the region is weapons. The country's arms-export firm, Rosoboroneksport, last year signed weapons-supply contracts with Arab countries worth $12 billion.
One of the biggest single customers? Syria, which is spending upward of $5 billion on MiG fighter jets, tanks, air-defense systems, and even diesel submarines and antiship missiles.
Syria has emerged as one of Russia's most important Middle Eastern clients since UN sanctions ended Russia's billion-dollar arms sales to Iran and Libya.
Russia has staunchly defended its Syrian sales amid a government crackdown that has left more than 5,000 people dead — leaving many to wonder if a boycott of "Russian goods" might, in fact, be the best way out of the Syrian conflict.
rferl
Photo: Syrians in the northwestern town of Kfar Nubul pose with a cartoon depicting Russia's Vladimir Putin defibrillating Syrian President Bashar al-Assad by using a veto to block a UN resolution against Assad.