Hoss slams Syrian regime over increased "violence"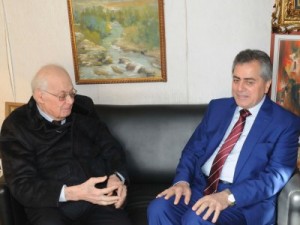 Former Lebanese Prime Minister Salim al-Hoss said on Wednesday that he is shocked that the Syrian authorities "were still using violence to suppress" popular movements.
Hoss called on the authorities in Syria "to prevent the use of arms in confronting popular movements because killing only leads to more violence," National News Agency quoted him as saying.
"Syria has paid a high price due to the recent painful events. It is time that [such] bloody [events] are put to an end. Isn't the Syrian leadership aware of its responsibility regarding the miseries happening?"
According to political analysts Hoss' comments represent a major switch in his stance toward the Syrian regime specially because he was considered a pro-Syrian politician. Only few months ago and after Syrian anti-regime protests erupted , Hoss said that Syria was targeted because it is the "only country" that has "the most influence" in the Arab world.
Reforms working
On the other hand Syrian Ambassador to Lebanon Ali Abdel Karim Ali said on Wednesday that "the political reforms" led by Syrian President Bashar al-Assad "are yielding practical results."
Following his meeting with former Prime Minister Omar Karami, Ali said that Syria will reach "positive, quick and decisive results" in confronting the "dangerous conspiracy" aimed against the strife-stricken country.
Assad's regime has repeatedly blamed "armed terrorist groups" for the unrest.
The UN stopped counting since last November when the death toll in Syria reached 5400. Many analysts estimate the death toll in Syria since the uprising began last March is in excess of 10,000.
Photo: Syrian Ambassador to Lebanon Ali Abdel Karim Ali (R) during a meeting last week with former Lebanese Prime Minister Salim al-Hoss