Russia denies threatening to 'wipe Qatar off the map'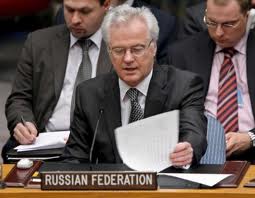 Russia's U.N. ambassador denied reports that he threatened Qatar during contentious negotiations on Syria last week and said a U.N. resolution could have passed if Western governments had waited several days.
Ambassador Vitaly Churkin called a Tuesday news conference to deny reports circulating on the Internet that he responded to a warning by Qatar's prime minister not to veto the resolution by saying Russia would wipe Qatar off the map.
Churkin said Russia's U.N. Mission has been deluged with calls about the reports, which he said are "lies." Qatar has not commented.
Russia and China used their veto power on Saturday to block the resolution, which backed an Arab League peace plan for Syria.
Qatar's prime minister, Sheik Hamad bin Khalifa Al Thani, had appeared before the Security Council on Jan. 31 to urge the U.N. to act.
The resolution, aimed at ending the Syrian government's suppression of a civilian uprising, backed an Arab League plan that calls for President Bashar Assad to step aside. Some 5,400 people have been killed in 11 months of violence, according to U.N. estimates.
Allegations of the supposed Russian threat were carried in Arab press reports, which cited a recording of an alleged exchange between the two men captured by French media. No link to the supposed recording could be found.
Churkin told reporters he was never alone with the Qatari leader during his visit to New York last week, and that during the three times they met they were accompanied by numerous members of Qatar's delegation and other U.N. diplomats.
The Qatari prime minister attended a Security Council session along with U.S. Secretary of State Hillary Rodham Clinton and the foreign ministers of France and Britain.
Russia had objected to parts of the resolution over concerns it could lead to the kind of military intervention or regime change seen in Libya last year.
Russia late last week submitted several amendments to the text, but they were rejected by Western nations.
"I regret there was a veto," said Churkin, adding that he believed that other council members rushed too quickly to the vote.
The Russian envoy said that with a few more days of negotiation, "we could have had the resolution unanimously adopted."
Churkin said that he believes Moscow's relations with the Arab world remain "solid," and said his country "can contribute a lot to a solution" in Syria.
Russian Foreign Minister Sergey Lavrov on Tuesday was visiting Damascus, where he urged Assad to adopt reforms aimed at resolving Syria's crisis.
Russia is a major ally of Syria and a leading arms supplier to the country.
AP