MP Merhabi: Lebanon army is acting on orders from Syria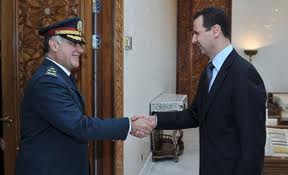 March 14 MP Mouin Merhabi said on Saturday that the Lebanese army "was deployed today along the Lebanese-Syrian border on orders from Damascus to President Michel Suleiman, Prime Minister Najib Mikati and Army Commander Jean Kahwaji."
An-Nahar newspaper reported on Saturday that the Lebanese army has set up checkpoints and deployed reinforcements in two northern areas in order to prevent smuggling, which is allegedly taking place in North Lebanon.
During an interview with LBC TV, Merhabi expressed his regret over "the way the army troops were dispatched "following orders from Syria. He said when the [Lebanese] residents who were wounded in these area by the Syrian army during its incursions into Lebanese territory the Lebanese government did not take any action in deploying the army to protect them ( the Lebanese citizens )."
Merhabi added that there is "a plan between the [Lebanese] army [deployed] in the [northern region of] Akkar and the Syrian forces to arrest and expel the Syrian refugees who are fleeing to Lebanon."
The Lebanese government is currently dominated by the Iranian and Syrian backed Hezbollah lead alliance which is supporting the Syrian regime in its brutal crackdown against the pro-democracy protests in Syria,
The UN stopped counting since last November when the death toll in Syria reached 5400. many analysts estimate the death toll in Syria since the uprising began last March in excess of 10000
Photo: File picture of Lebanese Armed Forces (LAF) Commander Jean Kahwaji and Syrian President Bashar Assad in Damascus when they met in December on Dec 1 , 2008 to discuss cooperation between the armies of both countries.