Russia to propose changes to UN Syria draft: envoys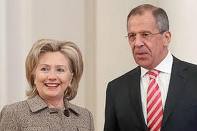 U.N. Security Council envoys awaited proposed amendments from Moscow on Friday to the latest version of a European-Arab draft resolution endorsing an Arab League plan for Syria, and envoys said the issue would be decided by Russia and the United States.
Morocco circulated a revised draft on Thursday after Russian U.N. Ambassador Vitaly Churkin told a closed council session he would veto it if it were put to a vote on Friday with a phrase saying the body "fully supports" the Arab plan calling for Syrian President Bashar al-Assad to step aside, diplomats said.
A senior Western envoy, however, said that by the end of Thursday's meeting the 15 ambassadors had agreed in principle on the new text, which includes the phrase "fully supports," but that a final decision rested with national capitals.
First word from Moscow was that Russia's leadership was not yet satisfied. Interfax news agency quoted Deputy Foreign Minister Gennady Gatilov as saying the draft was "not enough for us to be able to support it in this form."
Churkin was expected to deliver Russian suggestions for further revisions later on Friday, diplomats told Reuters.
"We'll take a look at what they propose," a diplomat said, adding that there was "not much room for substantial edits."
Qatari Prime Minister Sheikh Hamad bin Jassim al-Thani told Al Jazeera television on Thursday that the Arab League would not accept any further concessions.
"The version which we have is the minimal which we can accept," he said, adding that if Russia did not support the current version, it should use its veto.
Diplomats said Moscow was signaling that it did not want to veto the resolution, as Russia and China did in October to a European-drafted resolution condemning Syria. But envoys cautioned that the Russians would not hesitate to vote against a text they consider to be unacceptable.
The issue, they said, would likely be decided when U.S. Secretary of State Hillary Clinton and Russian Foreign Minister Sergei Lavrov meet on the sidelines of the annual Munich Security Conference in Germany this weekend.
"This is now between the United States and Russia," a diplomat said. "The rest of us are waiting to see whether they can reach an agreement."
In Washington, State Department spokesman Mark Toner said Clinton and Lavrov spoke on the telephone on Friday. They agreed that their U.N. delegations would continue working and the two would discuss the issue in Munich.
Envoys expected the resolution would not go to a vote before Monday, though a Saturday meeting remains a possibility.
"CAUTIOUSLY OPTIMISTIC"
Russia, a long-standing ally of and arms supplier to Damascus, has so far led opposition to Security Council action on Syria out of concern it could be seen as promoting "regime change" there or even lead to Libya-style outside military intervention in the conflict.
The current draft still says the council "fully supports" the Arab plan and diplomats said Russia would probably want that phrase changed. Several diplomats suggested that dropping the word "fully" might work, though it was unclear if the Qataris and other Arab states would accept that.
A senior U.S. official declined to predict what the final vote would be but suggested the majority of the council backed it. "We are cautiously optimistic that we will have a very strong show of support for this resolution," the official said.
If Moscow votes for the resolution, it likely will be adopted unanimously, as China and Pakistan are expected to follow Moscow's lead, U.N. envoys said. All other council members have already signaled they will vote for it.
An abstention from Moscow would allow the resolution to pass, although it would register a certain level of disapproval.
"My take is (the Russians) also realize that things have moved very fast in the last days, and that we might be in a kind of an endgame," said the senior Western envoy, who asked not to be identified.
The United Nations says more than 5,000 people have died in attempts by Syrian government forces to crush 11 months of anti-Assad protests.
The latest draft includes changes made by Arab and European negotiators to meet some of Russia's concerns. It calls for a "Syrian-led political transition," does not criticize arms sales to Syria and leaves out some of the details of what the Arab plan entails, such as Assad transferring power.
Western envoys said they and the Arabs were trying to assure the Russians the resolution is not aimed at regime change in Syria or a precursor to foreign military intervention, as happened in Libya. The new draft makes clear that it cannot be used to authorize force.
The draft does not threaten Syria with sanctions, also rejected by Russia, but includes a vague reference to possible "further measures" in the event of Syrian non-compliance.
Reuters