Geagea: Cabinet should resign, replaced with technocrats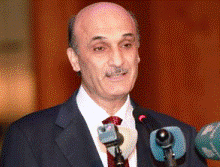 Lebanese Forces leader Samir Geagea said on Thursday during a press conference in Maarab that the current cabinet should resign and be replaced with a cabinet of technocrats ,
" We cannot allow this cabinet to continue. There is no reason that can justify for this cabinet to stay in power," Geagea told reporters.
"Any member of this cabinet that respects himself should resign ," Geagea said
He added that the members of Prime Minister Najib Mikati's cabinet "do not have a united plan, adding that their only plan was to topple the government of former PM Saad Hariri .
Geagea said that the "worst period for Lebanon during the past six years is the present time. Any progress has been made since the cabinet was formed …Lets talk about electricity, the economy , the ministry of communication . What has been accomplished ?
The LF leader said that the Lebanese citizens are paying the price of a one-sided cabinet which President Michel Suleiman has criticized over its bad performance.
Mikati's cabinet is mainly dominated by ministers affiliated with the Iranian and Syrian backed Hezbollah-led March 8 coalition.
Geagea's remarks come after Wednesday's cabinet session that was held at the Baabda Palace witnessed a heated debate over the controversial issue of administrative appointments …Free patriotic Movement ministers stormed out of the meeting and the President suspended the session at the request of Prime Minister Najib Mikati
Miqati threatened not to call for any new sessions until all the issues of administrative appointments are resolved.