France to push Arab League plan at UN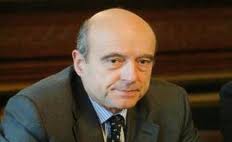 France's Foreign Minister Alain Juppe will address the UN Security Council in New York on Tuesday in an effort to push through an Arab-backed resolution for political change in Syria.
"The minister will be in New York on Tuesday to convince the Security Council to meet its responsibilities as the crimes against humanity committed by the regime get worse," foreign ministry spokesman Bernard Valero said on Monday.
Arab League chief Nabil Elaraby left for New York on Sunday where he will brief representatives of the Security Council on Tuesday, seeking support for the Arab peace plan, which calls for President Bashar al-Assad to step down.
France and Britain crafted the resolution in consultation with Qatar and Morocco, as well as Germany, Portugal and the United States. It is intended to supersede a Russian draft that Western delegations say is too accommodating to Assad and also no longer relevant in light of the recent Arab League proposals.
Veto-holding Russia, which said last week that parts of the Western-Arab draft resolution were unacceptable, said on Monday it wanted the Council to hear directly from the Arab League's observer mission in Syria before discussing any resolutions.
The French-backed draft resolution, obtained by Reuters, calls for a "political transition" in Syria. While not calling for UN sanctions against Damascus, it does say that the Security Council could "adopt further measures" if Syria does not comply with the terms of the resolution.
"It is time the Security Council acts to find a solution to this crisis," Valero said in a daily briefing to reporters.
France has been prominent in Western efforts to try to force Assad to end a crackdown on protests and has suggested a need to set up zones to protect civilians – the first proposal by a Western power for outside intervention on the ground.
Escalating bloodshed prompted the Arab League to suspend the work of its monitoring mission on Saturday. Arab foreign ministers, who have urged Assad to make way for a government of national unity, will discuss the crisis on February 5.
"The situation in Syria is appalling and is just getting worse," Valero said. "Everything must be done to put an end to the spiral of violence that has led to the bloody repression which we've seen for the last 10 months."
Juppe made a similar address in March to the 15-nation council when he urged it to adopt a resolution that would authorize a no-fly zone against Libyan leader Muammar Gaddafi. The resolution passed, with Russia and China abstaining, and within two days NATO air forces were bombing Libya.
Given Russian and Chinese objections now, and Syria's position, unlike Libya, at the heart of Middle East power politics, such an intervention seems unlikely as yet.
Reuters