Berri , Jumblatt may be targets for assassination , report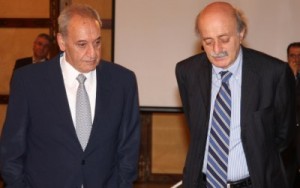 An Nahar daily reported that the Internal Security Forces Intelligence Branch urged Speaker Nabih Berri and Progressive Socialist Party leader MP Walid Jumblatt to take precautions as they may be targeted for assassination .
According to An Nahar the homes of the two officials are under "surveillance." .
Jumblatt told An Nahar that "the security coordination is very important, specially because of the critical stage the country is passing through."
" ISF intelligence branch chief ( Col. Wissam al-Hassan) is playing his role, and we shouldn't forget the accomplishments made by the branch in revealing the identity of a number of Lebanese for collaborating with Israel," he noted.
According to As Safir newspaper , Jumblatt was informed of the security threats during his visit to Moscow last week.
Jumblatt who split from the March 14 alliance in August 2009 has been very critical of the Syrian regime in its brutal crackdown against the pro-democracy protesters . He reportedly went to Moscow to try and convince the Russian leaders to adopt the Arab league position on ending the Syrian crisis, but appears to have failed in his mission because Russia today has rejected a UN Security Council Resolution based on the Arab League plan