GCC, Turkey urge Syria to accept Arab League peace plan
The Arab plan, which envisages President Bashar al-Assad transferring power to his deputy and the formation of a national unity government within two months, has been rejected by Syria.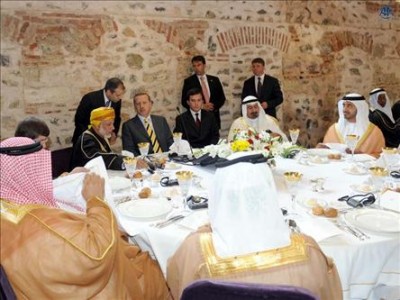 The foreign ministers of the six Gulf Arab states and Turkey, in a final declaration, said no significant progress was made on the Arab League peace plan "mostly due to the intransigent attitude displayed by the Syrian administration."
The ministers "strongly urged the Syrian administration to fulfill without delay all of its commitments and obligations under the Arab League peace initiative."
Saudi Arabia is the largest member of the Gulf Co-operation Council (GCC) and other members include Bahrain, Kuwait, Oman, Qatar and the United Arab Emirates.
"We hope Syria seriously evaluates the decisions of the Arab League, puts an end to repression against its people and start a reform process in line with the demands of the people," Turkish Foreign Minister Ahmet Davutoglu said after the meeting.
Turkey, once a close ally of Syria, has been at the forefront of international criticism over the Damascus regime's crackdown on protests and has also become a haven for Syrian opposition activists.
The Istanbul meeting comes amid a new Arab and European quest to secure UN action over Syria's crackdown, which is opposed by Russia.
The UN Security Council has been deadlocked for months on Syria. Russia and China vetoed a previous European resolution in October, accusing the West of seeking regime change.
In the final declaration, the ministers also agreed that international efforts should be focused on bringing the bloodshed in Syria to an "immediate end" and paving the way for the initiation of a political transition process in line with "legitimate demands of the people."
International pressure on the Syrian regime has been mounting, as more than 5,400 people have been killed since anti-government protests broke out last March, according to UN figures.
gazette